Sunday Shillong caught up with a young singer who hopes to make Meghalaya proud through her voice.
I Am in Need of Music
I am in need of music that would flow
Over my fretful, feeling fingertips,
Over my bitter-tainted, trembling lips,
With melody, deep, clear, and liquid-slow.
Oh, for the healing swaying, old and low,
Of some song sung to rest the tired dead,
A song to fall like water on my head,
And over quivering limbs, dream flushed to glow!
There is a magic made by melody:
A spell of rest, and quiet breath, and cool
Heart, that sinks through fading colors deep
To the subaqueous stillness of the sea,
And floats forever in a moon-green pool,
Held in the arms of rhythm and of sleep.
Elizabeth Bishop
Imagining a world without music is like living without the soul. Its magic is ancient, one that unites us. The seven notes of music convey every emotion known to us and these lines by Elizabeth Bishop echo the world-view of Riiaka Namesha Wahlang.
Daughter of Pamela Wahlang and Adelbert Nongrum, Riiaka is a multi-talented person – singer and athlete. A resident of Jaiaw, she is making her quiet presence known on social media with her YouTube channel. At present, she is a grade XII student in St Dominic Savios Higher Secondary School and is all set to give her board exam.
Sunday Shillong caught up with her to get a glimpse of her world.
"What a Wonderful World"
Gentle, shy and observant are some words to describe Riiaka who takes her time to open up to people. But when she is on the stage, a more confident person makes her presence known. Just like the famous Louis Armstrong classic, music, she feels, is spiritual and beyond borders – the reason why it has been a calming influence in her life. She mentioned how one of her memories involve her father praying through singing. 
On enquiring about her earliest memory of singing, Riiaka mentioned that she started singing from the age of three. Growing up, she would take part in various music competitions and sing in the Church choir, as her love for music blossomed. It took her parents some time to realise that her voice is a God given talent.
Our conversation shifted to her interest in sports. An athlete and a basketball player, she feels that sport is in her genes from her paternal side. It plays an important role in her life, adding how she is also interested in joining the police force.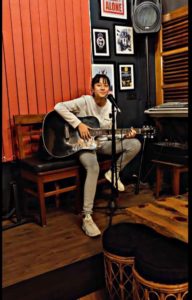 "Chasing Pavements"
English singer-songwriter, Adele inspires her. We spoke of the other musicians she looks up to. Beatles, Elvis Presley, Chris Stapleton, among others and music from the 50's and 60's are her favourites.
Riiaka wants to pursue music professionally and is yet to plan her singing career. "It takes a lot of courage to pursue your passion and I am not afraid of carving my own path", she said. Her other plans include more social media presence, YouTube in particular, where she will upload more singing videos. In the long run, she wants to make good use of her voice by helping others who are talented and need guidance in order to reach their full potential. 
We also spoke of the different music reality shows and whether she would like to be a part of the same. To this, she said, "Maybe. It will bring laurels for the state". 
Her parents mentioned how they had planned to record two Christmas songs last year, but the timing was not right. When one listens to her voice, an 'old soul' quality resonates, something which the music producer had said after listening to her, adding, "Her voice is very unique and mature". 
To remain humble, to not succumb to the pressures of the world and to be rooted in her values, Riiaka hopes to exert a powerful influence through music. 
Adity Choudhury