By Patricia Mukhim
14-year-old Jaden R Pariat currently studying in Pathways International School Gurgaon has a passion for car racing. No, he is not driving a racing car yet but is training at Bangalore – Federation of Motor Sports Club of India (FMSCI) and does karting. MECO Academy is where aspirants are trained to learn the ropes of karting and racing to fulfil their dream of becoming professional racers one day. Meco Academy prides itself on having trained virtually every Indian racer that has gone on to participate in international circuits over the last 15 years.
So, what made him go for this sport? Jaden smiles and says, "My father too used to take part in car races. Since I was three years old in would sit on my father's lap as he drove from Guwahati to Shillong."
  So, what is karting? Jaden explains patiently that Kart racing or karting is a variant of motorsport road racing with open-wheel, four-wheeled vehicles known as go-karts or shifter karts. They are usually raced on scaled-down circuits, although some professional kart races are also held on full-size motorsport circuits.
 The next step is the X30. Explaining the mechanics, Jaden says, "These are single make Karts with no modifications allowed with power of 22 hp and top speed of approx. 105 kmph. "It takes two weeks of practice to master this art before I move on to Rotax."  
 "Rotax is multiple make of karts with modifications allowed to the karts with 28 hp and top speed of approx 110-115 kmph. The Rotax cars allow drivers to learn car setup as a foundation so that later as they move up its easier for them to understand how each parameter of a Kart or car makes a difference to how the vehicle behaves. It could be brakes, suspension, geometry carburration etc," Jaden informs.  
 Later on, as the drivers move up into open wheeled cars more factors are allowed to be modified so the driver understands each aspect well and can collaborate with the engineers and technicians how to take out the best of the kart or car
 The two-stroke championship largely takes place at Meco Kartopia (Bengaluru), Chicane Circuit (Hyderabad), Kari Motor Speedway (Coimbatore), Mohite's Racing Circuit (Kolhapur) and Lahiri (Hyderabad).
 On the other hand, the IndiKarting series uses four-stroke karts and has two categories for drivers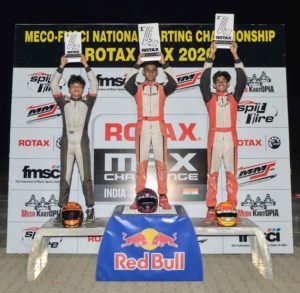 These are the two different types of championships in India. The rest of the championship will happen in Europe as one graduates. One has to keep winning these championships to get to further levels like F4 F3 F2 and finally F1. Up to the F3 level there is no prize money, Jaden informs.    
 Formula One (also known as Formula 1 or F1) is the highest class of international auto racing for single-seater racing cars sanctioned by the Fédération Internationale de l'Automobile (FIA). The word formula in the name refers to the set of rules to which all participants' cars must conform to
Jaden says he has to look for corporate sponsors as this is a fairly expensive sport. Right now, the sponsorship is a smaller amount but by the time he graduates to F4 and F$ the sponsorship will have to be pretty heavy ranging from Rs one crore and above. He is preparing for the WSK Supermaster series scheduled for 2022. "If I am lucky, I will be picked up by one of the racing car manufacturers and trained for the F2 and finally the F1 level.
Jaden spends a lot of time in Bengaluru than in his school at Pathways Gurgaon. His parents now feel he should permanently shift to Bengaluru so he can fully concentrate on the training and do home schooling while he prepares for NIOS.
Jaden is also an ardent footballer having played in the Under-14 Subroto Cup in the Delhi team against Uzbekistan. He has won awards in drama and dance and is also member of the Model United Nations where he won the best delegate award in debate. He plays basketball and badminton too and is also a swimmer but has had to leave everything to concentrate on karting.
When asked if he is not afraid of speed, Jaden said, "It is natural to feel nervous during a race since he has to pull away from other drivers who are right behind me. But it's a good type of fear as I can feel the adrenaline pumping."   
The Pariat home in Laitkor peak has enough space for Jaden's karting activities. His parents are supportive and that's reason enough for the young racing car aspirant to fulfil his aspirations.