The culture that remains…
Despite the onset of an era of modern technology, there are some age-old traditions that continue to keep their body and soul together. One such tradition is kite-flying.
The tradition continues to cling to every nook and cranny of the contemporary Indian subcontinent. Although in many parts of India people fly kites during Makar Sankranti and Independence Day, the scene in Shillong has always been a little different. Here, people prefer flying kites at a time when summer is at its peak, weeks before the I-Day. The culture of kiting is usually in full swing every year during Independence Day during which colourful quadrangles are seen soaring in the sky.
With 15th August just few weeks away, Shillongites have already started purchasing kites and other accessories while some have started making them at their homes. The SJ team, during a visit to Iewduh, found out that the businesses engaged in selling kites and relevant accessories are gaining momentum each day. Many shops in the market are engaged in selling kites, manja and spools.
Many old-school kite aficionados, however, still prefer self-made manja. They contend that the quality of manja is at its best when one, having the knowhow, self-makes it. People in Shillong have already started flying kites from their rooftops and playgrounds, and what inspires delight is that people, regardless of their age, still have the vigour to run after the kites that are brought down after their threads are cut. The competition to secure the descending kites first is still there.
Technology hasn't snatched everything away after all.
Spoiled wilderness
Everywhere we travel to, we leave memories behind. But sadly we don't retrospect whether our actions could potentially be detrimental to man or nature in the future.
Often times after picnics and other leisurely trips, people have been found leaving behind litter ranging from packages of eatables to leftovers of the eatables.
While this is regarded as normal or conventional, coming across sorry sight, which was a relatable, had the SJ team appalled.
Seats — built in sets of three and made out of tree trunk — found along the stretches of the Rhododendron Trek in Upper Shillong have apparently disappeared.
The craftsmanship of the Forest department, which had opened the trek in 2017, has been tarnished.
How this happened is uncertain, but the seats could have potentially been hacked with a sharp object and taken away.
At a particular spot, out of three seats, two were missing while one was partially damaged and a part of it appeared to have been chopped with some sort of a blade. But in almost all other places where the seats were placed, there was nothing but circular compartments to house the seats.
Everyone would agree that the act is truly wretched and worthy of contempt, except the purported hackers perhaps.
On the sidelines of the revelation, the SJ team also saw an unusually high number of people at the trek site during the weekend. With the wonted humdrum of the city life missing, people must be taking to the wilderness to find their balance of mind.
A star called Nayaab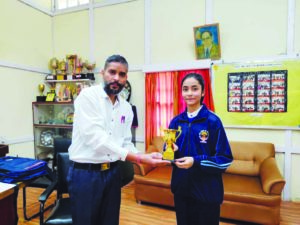 True to her name — 13-year-old Nayaab, which in Urdu means nonpareil or unsurpassed, lives up to her name.
She does not waste a minute of her time. Nayaab Suhel, studying in Class VIII of BSF Senior Secondary School and a young writer of short stories, some of which were published in Sunday Shillong, recently won the first prize for an essay competition organised by the Department of Atomic Energy – Directorate of Exploration and Research, North Eastern Region, in February this year on the occasion of National Science Day.
The topics for the essay competition were — (a) Nuclear energy, Green energy (b) "Peaceful uses of Nuclear Energy," (c) Nuclear power programmes of India.
Nayaab chose the second topic, 'Peaceful uses of Nuclear Energy', where she had to articulate her thoughts on the topic within a thousand words. The competition was held in the BSF School premises at Umpling vide the offline mode.
The results of the competition were declared in March this year but the trophy was handed over to her on July 5 last by the Officiating Principal, BSF Senior Secondary School. Nayaab was ranked first in the North Eastern Region and 4th at the all-India level. This is quite a feat considering that thousands took part in the essay competition.
Currently, Nayaab is busy penning down her experiences of life in Shillong and is calling it "Shillong Diaries." She does have a flair for writing as is evident in the book of short stories released earlier called, "Flamingo in Vamprickle Land," where Nayaab allows her imagination to run wild.
In another story writing contest organised by StoryMirror, Nayaab was adjudged the first runner-up and also named Author of the Year in February 2020. We can expect Nayaab to come up with many more laurels in the future.
She is an avid reader too and very confident about what she wants from life. Here is a budding writer whose creative juices flow unfettered and who has the unstinted support of her parents in all her ventures.