The Goodness of Golden Delights
A mixed bag of ingredients including history, fun and frolic along with sweet delectable delights is what determines a fulfilling festival time, discerns Esha Chaudhuri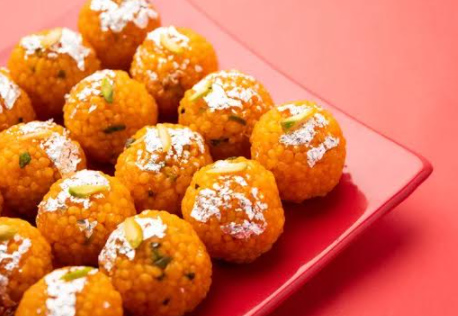 By Esha Chaudhuri
In the light of festivities, sweet as a taste sensory makes for an integral part. Like all festivals have a dedicated sweetmeat/treat distinctive to its character enhancing the appeal of the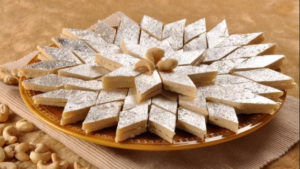 celebrations. Speaking with the two most iconic sweet/mithai makers and sweetmeat shops of Shillong – namely Palace Sweets and Delhi Mistan Bhandar of Police Bazaar, Sunday Shillong explores the trajectory of mithai making, its chosen ingredients, the art behind the scenes and the final outcome of the wholesome goodness making for a sweet and sinful experience.
Sweet Traditions
Speaking on the imperative role of sweets/mithai during the festival of lights, Co-owner of Palace Sweets, Ajay Gupta says "Diwali is one of the most important festivals for Hindus in and around the world. When festivals are celebrated, sweets are a must for us. During this festival people prefer dry sweets like sweets made of cashew and khoya. These sweets are also distributed among their closed ones."
Affirming the same, Owner and Proprietor of Delhi Mistan Bhandar, Kailash Verma says, "Diwali is a festival celebrated widely but it is big in North India. Sweets are symbolic of love and bonding and is distributed among friends, colleagues and business partners."
Commenting on which particular mithai finds itself as the foremost among all, Verma says "Traditionally, it is ladoos that is widely used everywhere in India. Slowly, this has evolved to kaju barfi since they're more elaborate and expensive. Chenna sweets or khoya sweets, historically from Bengal has also gained popularity but ladoos remains the favourite." He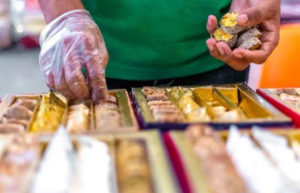 further adds, "Diwali is synonymous with the phrase ladoo khilao!"
Building on this, Gupta confirms, "Ladoos are the biggest sellout sweets among others as it is used for the offering made to Lord Ganesh. In India, all the festivals demand for different sweets. For instance, gujiya and malpua is for Holi and ladoo for Deepawali.  Since during Diwali we worship God Ganesh and Godess Lakshmi, the sweet preferred during this puja is ladoo making it a symbolic sweet of Diwali."
Stories of the past 
Touching base with the histories of both the oldest sweet sellers in the city, Gupta says. "In 1922, my grandfather started the sweetmeat business in partnership, in the locality of Laban. Since then we are in this business." In a similar course, Verma shares, "Delhi Mistan Bhandar was started by my father who came to Shillong in 1927 all the way from Quetta as a part of the cantonment of the Gorkha regiment. The shop was first founded in, then Bara Bazaar, and later moved to Police Bazaar."
On the matter of the artisans behind the scenes, Gupta says, "Our artisans and chefs are from the states of Uttar Pradesh and Bengal. In fact, it's been a decade now that we have been hiring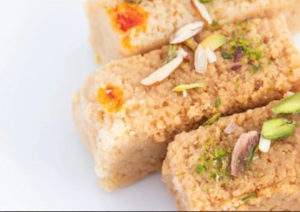 trained chefs." Verma adds, "Initially, our chefs were trained by my father, who brought his learning from Quetta and therefore, we sell Afghani jalebi. After that, the next few generations have learned the art locally here." 
On the matter of condiments used as well as their procurement, Gupta states, "Few items like saffron is ordered from Delhi, the rest are usually available locally."
Building on this point, Verma elaborates, "We locally procure milk and the basic ration, but assorted nuts including almonds are brought from Delhi, cashew nuts from Garo Hills in Meghalaya."
On the subject of consumption of sweets in Shillong, Verma says, "Shillong is a small place in comparison to most cities, so in that respect, sales are reasonable. In Delhi, for instance, during festivals all sweets are sold out. The reason being that sweets are bought to be distributed." He further adds. 
Gupta too says, "The consumption of sweets in our country has increased despite health issues. In the Northeast, particularly in Shillong, the local populace has also started enjoying traditional sweets.
In comparison to other cities, percentage-wise our consumption in Shillong would be 20-30%."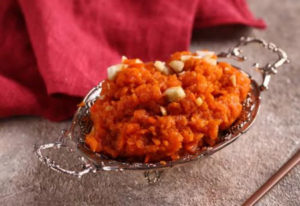 Festive innovations
Running its own course, the mithai culture in Shillong has carved its individual path for its people. In words of Gupta, "During the British era in the 1920s and 1930s the sweets were made of jaggery or gur. Later sugar was introduced in very moderate quantity as it was rarely available and that too only through Kota. It was only after the World War II that the sales of sugar were relaxed and since then the supply increased due to which there were a variety of sweets." Elaborating on the same, Verma says, "India is the place where sweets began. In Alexander The Great's memoirs, one will find that he wrote about sugarcane which Europeans didn't know about and had traded as a commodity then."
Commenting on the innovations in mithai options in the present times, Verma says, "Dry fruits like almonds, cashew nuts, pistachios are in vogue and most sweets with these are popular. At a time in history when milk was in shortage, and usage of khoya was banned and most mithai-makers adapted to using coconut and other nuts as well as dry fruits giving the sweets a novelty value." He further adds, "As a person in the business, mithais like barfis are convenient for us as they are dry and not syrup-laden, making their shelf-life longer."
Gupta observes a change in the pattern of consumption saying; "The last three decades have seen a change in choices of sweets. People have become more health conscious. The size of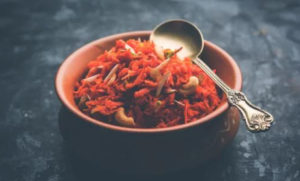 the sweets have become smaller, the sweet levels reduced, increase in sugar-free sweets with low calorie and high fibre have also been introduced. Along with this, a large variety of fruits and nuts sweets are also popular nowadays." Refuting the notion that mithais being an unhealthy sweet option, Verma elucidates, "Popular options such as sandesh is made with very less sugar and completely milk based. Vegetable options with carrots like gajar ka halwa, and gajar pak are also good examples, however, the halwa does include a high volume of ghee in it. Petha pak, another such sweet option is made out of a vegetable and is delicious while also being healthy."
Gupta also confers some of this change on the pandemic as well. He says, "The pandemic has brought about a lot of changes in the entire world as well in our lifestyle. We have become more traditional in our way of living. People do purchase sweets for their families as well as their friends, but despite having these options in sweet preparations available in the markets, people like their homemade sweets too." Highlighting the importance of festivities over the pandemic, Verma says, "Diwali is a must in every home in North India irrespective of the pandemic. This year things have been rather normal."
Speaking to some local people on the types of sweets available and the health aspect in the shops while making their purchase, this is what they surmised –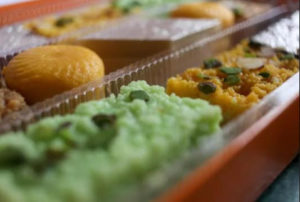 Ashish Jhunjhunwala, "I am a mithai lover all year round. There is something about the essence of it being made with ingredients so few, yet so wholesome. Our ancestors have been having them for generations."
Sanam Sharma, "Sweets are for all-year round. But during Diwali it is even more special. It has been our family tradition to get gulab jamuns and ladoo from Delhi Mistan Bhandar and rasgullas from Palace Sweets."
Pynskem Swer, "I come to buy sweets during Diwali because there's more to choose from. I like gulab jamuns and rasmalai a lot."
Cultural evolution 
As is intrinsic to any city with a multicultural and multiethnic background, acculturation with regard to language, food, dressing and other ways of life are adapted. Here too, in the case of sweets, there has been a surge in the demand in the market by all sections. Gupta confirms, "Our clients are a mix of people with diverse backgrounds. For instance, locals in Shillong like sandesh, rasgulla, rasmalai and other sweets made of milk while others prefer sweets made of desi ghee and cashew. We have surely witnessed a shift in our clients because of the opening of new sweet shops in town as well as competition. Taste and preferences of people are not constant they keep on changing."
Speaking on the cyclical shift in clients as per seasons, Verma explains, "Initially, Shillong had a population largely comprising of Bengalis and Assamese and for them it was Durga Puja. Diwali has been predominant for central government employees, businessmen and contractors. The demand for different varieties of sweets differs in these two occasions – former being milk based and latter being a mix of ghee and milk based sweets." He further adds, "In fact, we have offerings for Christmas too, and that is evident from the sales during the Christmas season."
Irrespective of changes in seasons, people and their movement, and weather, what remains a constant is a taste for a joyful sensory experience. From gajar pak, sohan halwa, to ladoos and barfis creating a mouthful of sweet and succulent goodness is a factor driving all festivities, surpassing fleeting thoughts of the vagaries of life.