By Ibankyntiew Mawrie
We all know about the Pomblang Festival that is held by the Hima Khyrim every year in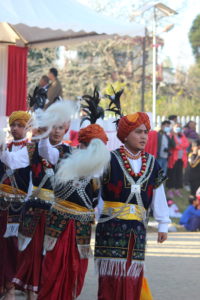 November and, I believe many of us have witnessed the Nongkrem Dance.
Much has been talked about the annual festival and its significance in modern days but in this edition, I would like to dwell more on the musical minutes of the event.
Apart from the dance, the rituals and ceremonies, the one religious factor that heightens the mood and sets the tone is the traditional music.
All the way from Wahkhen village, a team of seven musicians journeyed to Smit in Nongkrem, which houses the iconic Iing Sad (residence of the Syiem of Hima Khyrim), also known as the centre of democratic values, culture and traditional wisdom.
The musicians and dancers from Wahkhen are known in the entire Hima for their skills and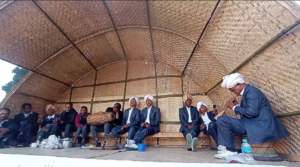 talent, and the festivities are incomplete without their participation.
The interior village of Wahkhen falls under the Pynursla civil sub-division in the East Khasi Hills district. It comes under the jurisdiction of the Hima Khyrim.
In a short conversation with some of the musicians from Wahkhen on the sidelines of the Pomblang festival, I learnt that every year, the selected musicians journeyed to Smit to take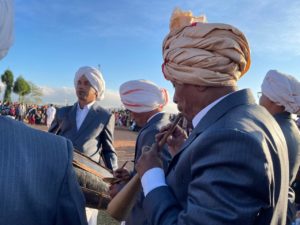 part in the 20-day long festival that starts in late October and ends in mid-November.
"We arrived in Smit at the beginning of the rituals on October 23 – that is when the roof of Iing Sad was renovated (*sop ia ka Iing Sad*). This year, a team of seven musicians accompanied me to play the different instruments during the festival," team leader Comic Khongjirem said.
The 77-yr-old Khongjirem has been playing the instruments – ranging from the tangmuri to the drums for the past 56 years.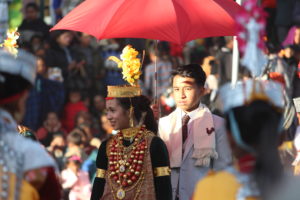 A farmer by profession, Khongjirem is keen to keep the tradition alive and with this thought in mind, he has been teaching young men in his village to play the traditional instruments like the *tangmuri, ka ksing, ka bom, ka kynsiaw *and *ka padiah.*
"In my family, only my nephews know how to play the instruments and they have been accompanying me to the Pomblang Nongkrem Dance many times, including this year," Khongjirem said.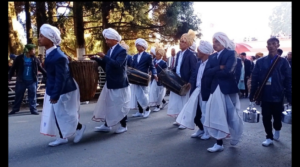 Another musician, Noah Khongsit (41), also from Wahkhen, has been playing the tangmuri for over 25 years now. "I play in various religious gatherings within the Hima," he said.
Similarly, Wet Khongjirem (60) has been playing different types of instruments at various religious gatherings within the Hima for the past 30 years.
Asked, Khongjirem said, "Times may change, our lifestyle may change but our culture and tradition remain the same. I don't see any changes in our customary practices and rituals."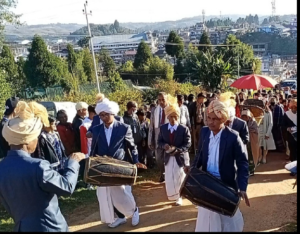 This year, as many as 12 dancers were selected to play during the festival — seven of whom are from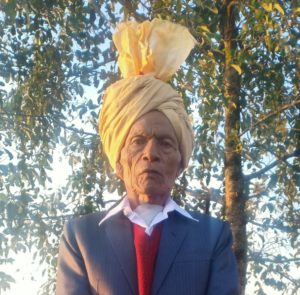 Wahkhen and the rest are from Smit.
Every year, the Syiem bestows upon the musicians' new sets of traditional attires that comprise of a white shirt, a white dhoti (*jainboh*), a turban (*spong*) and a greyish colour coat.
This year, the 20-day long festival will come to a close on November 14 and the musicians will end their one-month long stay in Smit and return to their village. (Photo of Khongjirem at Madan Lehniam in Smit)