The Magic of Books
Reviving hope in humanity by imparting values of knowledge and ethics through the medium of books, is a perennial act of service, surmises Esha Chaudhuri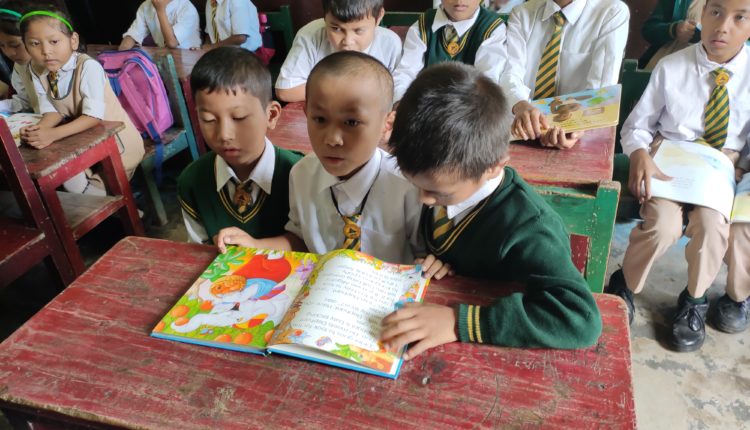 By Esha Chaudhuri
"I get a better understanding of the way sentences are constructed and the way they play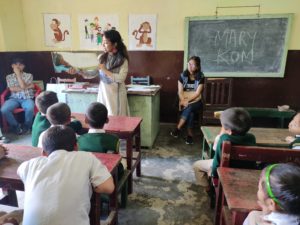 around with words. They help improve my English", says 14-year-old Mebarisha Rynjah (name changed) a beneficiary at the Anganwadi Centre at Laitkor, Lumleh. An initiative solely driven to nurture the habit of reading as well as to support children's educative pursuits in far-flung areas, the Kyrshan Foundation began in 2019 with the Owl Library functioning as a project under it; have been making a difference in the lives of many children through its contribution of books and setting up of libraries in the some of the remotest areas of Meghalaya and the Northeast of India. On Children's Day, Sunday Shillong explores the quest of brightening children's lives through books by a novel project of setting up libraries. 
Joining the dots 
An Assistant Professor of Legal Practice at Jindal Global Law School, Sonepat in the day, and Founder and Managing Trustee at Kyrshan Library, Badapbiang T. Dkhar's journey began when she was working on a project in Arunachal Pradesh where she made contact with a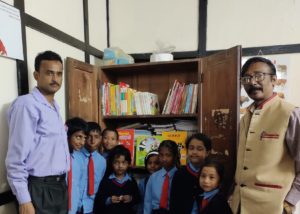 young girl who changed her life. Dkhar narrates, "I was working as a sanitation fellow with the Ministry of Drinking Water and Sanitation and the PHED, Govt. of Arunachal Pradesh in 2017-2018 in a lesser known district called Anjaw in Arunachal Pradesh where connectivity was very limited, Internet, radio or even newspapers were not at all accessible during my stay there. This is where I did a menstrual health campaign for girls in Kasturba Gandhi Balika Vidyalaya, (KGBV) Supliang using comic books and it was the first time that the girls' saw such books and so they requested me to bring more." 
In another incident during her course of stay in Arunachal Pradesh, Dkhar remembers, "When a girl named Entilu who rarely spoke to anyone started opening up to me because of a book that I read to her titled "Good Night Stories for Rebel Girls", where she learnt about many inspirational women. It was then that I realised that books can create a human connection through shared experiences." 
This mission aided by support from local people, government officers and resounding help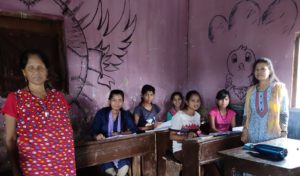 via social media made it all possible. In Dkhar's words, "I travelled to Lohit District where Internet was available, and through a social media post I requested my friends to donate books for children and to send it to my home address in Shillong. My friend Akash Paul Lakra and my mother would keep track of all the books donated and connected people through my Facebook account when I had no access to the Internet. Little did I know when I returned home a few months later, that my mother had received over 500 books!" 
Additionally, Dkhar adds, "Individual contributions were made by the PHED Govt. officers from Arunachal Pradesh and my colleagues at the time supplemented the rest and I was able to order quality books making the total collection of over 1000 books in a span of three months. I received a lot of support from the former District Commissioner of Anjaw who connected me to the Education Department who transported around 100kgs of books from Lohit District to remote Anjaw. All in all, it was a collaborative effort of dedicated officers from Arunachal Pradesh who believed in my cause and the Mishmi youth who carried the head-load by making ten mini libraries a possibility."
The Local Chapter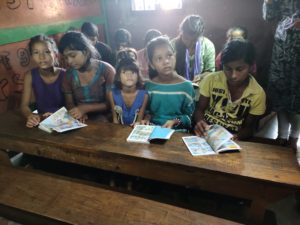 Albeit a slow process, as the book donations started pouring in from many cities including those of Delhi, Mumbai, Bengaluru all amplified through social media, this personal undertaking found its official path through the Kyrshan Foundation in Shillong. Shuttling between two jobs – one her main and the other her passion, Dkhar says "I work on projects during my free time and try to visit and connect with people who reach out to us either to donate books or to set up a mini library." 
Commenting on her objective behind Kyrshan and the beneficiaries of her pet project, Dkhar elaborates, "Our mission is to reach underserved communities and areas which are remote with limited Internet connectivity. So far, our beneficiaries have been children under the 18 years of age. We have set up mini libraries in Shelter Homes in Meghalaya and Assam as well as border areas in places such as Kamjong District, Manipur near Myanmar and Anjaw District, Arunachal Pradesh near China. We have also set up mini libraries in schools for marginalized communities in Rangmen Village, Ri Bhoi District run by Spark School who work with children engaged in domestic work. However, we also aim to set up community libraries for adult readers based on the wide range of books received through donations."
Asked about the nature of donations drive and funding, Dkhar explains, "So far, we only crowd source pre-loved and new books from people from all over the country send it to our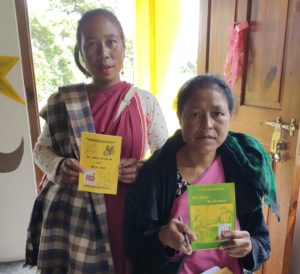 office located in Malki. We have had door-to-door book collection drives in various cities such as Bangalore, Delhi and Mumbai all done by individuals and organizations who believe in our cause. For instance, we had the Vanshika Ruia from the Rotaract Club Bangalore Junction donate over 2000+ books and Weave, Mumbai donated over 250 books in 2019-2020."
Elucidating the operations of the Foundation, when asked if the Government has come to her aid, Dkhar says, "the Government can play a vital role in aiding our cause. However, we presently choose not to avail any government funding we do not set up libraries in collaboration with the same. Instead, we rely on individual contributions and efforts. Some of our teacher partners may work in government schools/institutions and are government employees but their effort to maintain the mini library is done on their own passion and dedication as teachers and partners who want children to learn outside their recommended texts and explore their imagination through storybooks." 
 All for Children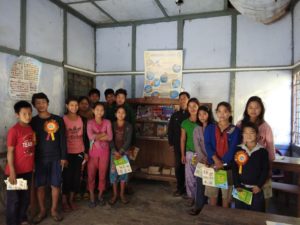 Operational on the basis of goodwill and the values of humanity, some of the established libraries stand tall at the Ferrando Shelter and Transit Home, Mawlai Mawdatbaki, Spark School, Rangmen Village, Ri-Bhoi District, Seng Khasi School, Mawlai, Samuel Christian School, Nongkohlew Village, Assamese LP School, Malki, as well as two Anganwadi Centres at Laitkor, Lumheh. In addition to these, some have been set up in Assam, Manipur, and Arunachal Pradesh.
Supervisor at the Anganwadi centre at Laitkor, Lumleh, Bethleen Pde accounts, "I heard about Owl Library from a friend through Instagram. This was followed by meeting Badapbiang in person and from there on we started talking about a collaboration." Speaking about what has changed since the installation the library, Pde says, "Children can spend quality time reading books of their choice since there is no such place in a rural area like this one. For Children's Day, we've made it more attractive and colourful by adding with toys for the children."
In a similar project at a Government school in Kamjong District, Manipur near the border with Myanmar, the library was built to alleviate the conditions of children in a remote area where access to books was scarce. Commenting on this, the key person and also Director of Recognize, Rise and Empowerment Association (RREA), Mathanmi Hungyo says "the beneficiaries of such projects are from underprivileged communities so there are challenges in resources, infrastructure and books." He further adds, "the initiative has enabled many children to have access to reading through a world beyond the school and the imagination of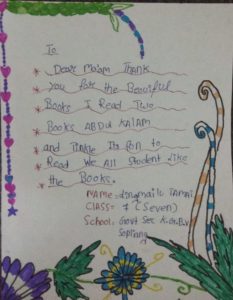 the other world exploring in the children's mind through books."
Emphasizing on the need for such platforms, Hungyo asserts, "We need to provide each and every child to have access to such a space  – books to read and for that to happen we need the support of the Government to change its policies and make schools inclusive, accessible and other NGOs working to support them"
Affirming the same, Pde says, "These libraries not only benefit children but elders from the community too as there is a range of books for all. Most importantly, it cultivates an interest in reading which is a very good habit especially in an age where most are engaged in social media and mobile phones. The Anganwadi also plays a vital role in aiding to this cause."
Moreover, Sunday Shillong also gathered some excerpts from the Children of these units sharing their experiences at the libraries and what meaning it brings to their lives – 
15-year-old Alvin from the centre says "The library is really beneficial because if there are sentences that we don't understand, there are people to help us out. I like coming here."
10-year-old Tiana shares "I don't have a place to sit and read at home, this is where I learn about people, places and their lives so different from mine."
Another such recipient, Pynsukhlang says, "Reading is one of my hobbies and I am very fortunate to get a chance to borrow these books from this library at Laitkor Lumheh. Of course, many of us cannot afford to buy these books but we are lucky we have this facility."
When asked about Celebrations on Children's Day, Dkhar says, "I'll be visiting Fernando Shelter Home and Transit Home for Women and Girls; another one of the setups where along with the teachers and children, we'll play some games, enjoy a few treats with music."
Grown from experiential learning to pack of team dedicated to a cause to make the magic of books known to tiny tots who only dreamt of it until yesterday, Dkhar driven by passion is making a difference in the lives of many through the power of books.