IBNS-TWF Correspondent Nitin Waghela catches up on cricket and golf with 1983 World Cup winning captain and the newly inducted Professional Golf Tour of India (PGTI) board member, Kapil Dev, during his visit to The Royal Calcutta Golf Club during the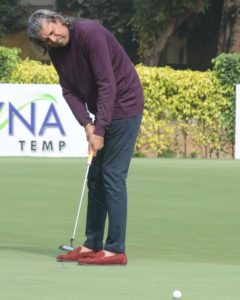 ongoing ICC RCGC Open Golf Championship
Do you think Rohit Sharma should be given the ODI (One Day International) cricket captaincy as well?
He should play golf as he's not playing any cricket and even Virat Kohli. All the golfers love them.
It doesn't matter who becomes the captain of the cricket team, it's important that we should win the matches. I don't believe in any individual, I believe only in teamwork.
What's your take on Shreyas Iyer who scored a century in his maiden test outing ?
Any youngster who scores a 100 in their debut, as a sportsperson I feel that sports is heading in the right direction. We do need people like him. Iyer waited for that chance for four to five years and has come out with flying colours.
I also hope that when the Indian team requires a batsman, he can do justice to that position.
Who are the best all rounders in international cricket according to you?
Ashwin is one. Ravindra Jadeja is a fabulous cricketer but unfortunately he improved as a batsman and came down as a baller to me. When he started, he was a far better baller but now he is a better batsman and gets runs when India needs him.
Coming to golf, what are your favourite golf courses to play on?
I just need good friends to play around. If you have good four friends, even a mediocre golf course looks so beautiful and sometimes when you don't score well, the most amazing golf courses look horrible just like cricket. On the other hand, sometimes in the most difficult pitches you score well and you claim it to be your pitch.
What steps do you think should be taken to encourage weaker sections of our society to pick up golf?
We should not think on the lines of weaker sections of the society; it is one country. You will not find in any other sport the kind of encouragement that is given by the top management to the weaker sections. With that being said, the environment here is friendly.
Since I started playing golf, the people who pick up our bags eat with us, hang around and enjoy the game. We also enjoy the company and their sense of humour. No other sport brings people so close.
How has your perception of life changed with time ? 
I never expected after retiring to have a beautiful life like this. I can also say that it's one step better than the life I had while playing cricket.
It's not only about playing for your country. Cricket is five percent and life is 95 percent. So, that 95 percent life is beautiful but that five percent has made this possible.