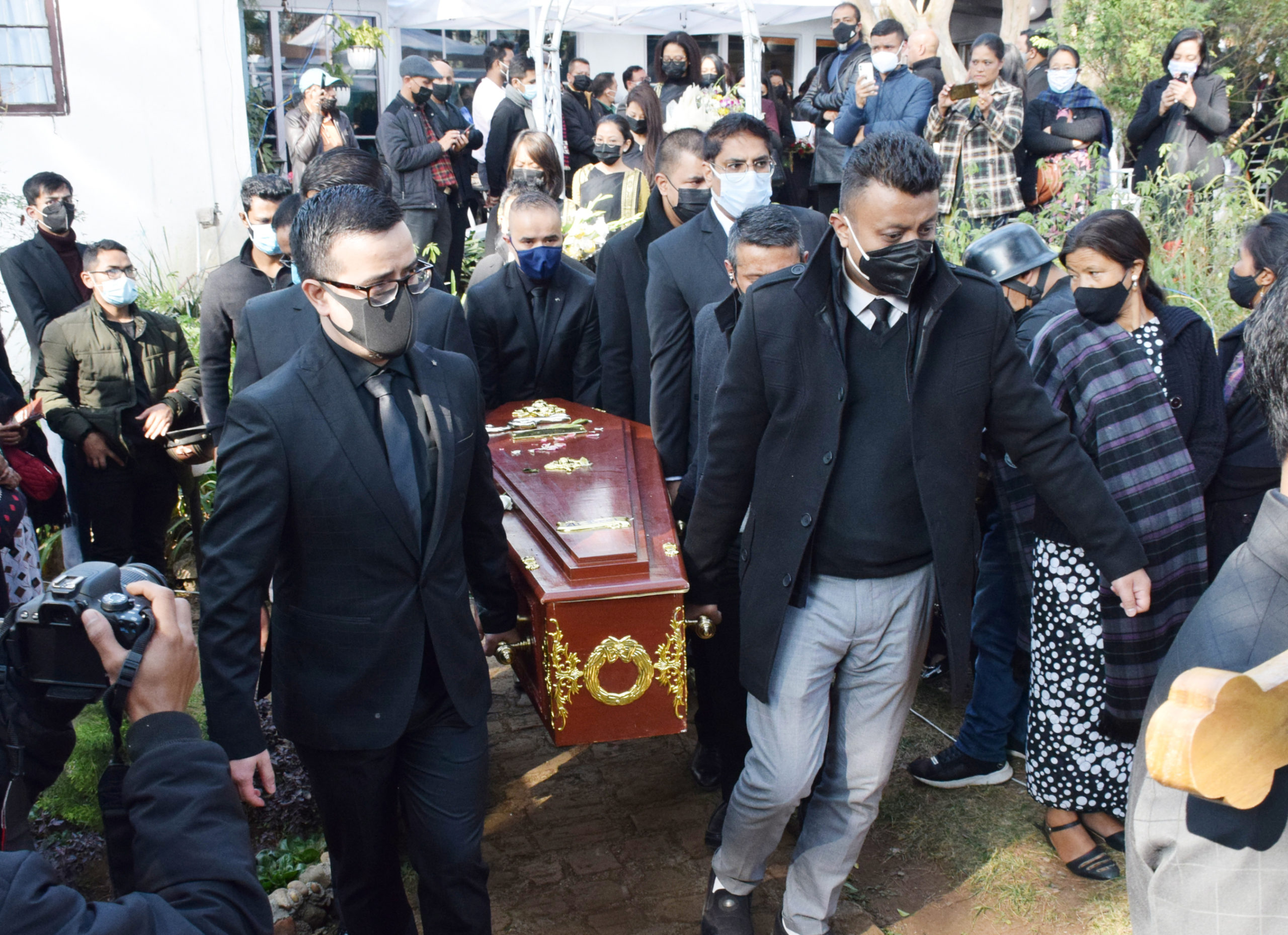 SHILLONG, Jan 8: Meghalaya bade tearful adieu to renowned concert pianist and the founder, mentor and conductor of the Shillong Chamber Choir (SCC), Neil Nongkynrih, on Saturday.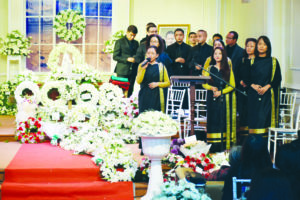 The funeral programme was held at Whispering Pines bungalow, the hub of the SCC. Present at the funeral ceremony were people from Meghalaya, from across the country and abroad. Many who could not be physically present participated over the Zoom virtual platform. Condolences were poured in from across the world.
The grand funeral ceremony was held at the Whispering Pines bungalow annexe which houses the mini theatre where the Shillong Chamber Choir have been performing virtually during the pandemic. The mini theatre was awash with wreaths and bouquets of pure white flowers. On Saturday, unlike other times when Neil would be playing the piano, now he lay motionless in his coffin as his sister, Pauline Warjri, handled the keyboard and the SCC paid their tributes to their maestro with some of their mentor's favourite songs – 'What a friend we have in Jesus,' 'To God be the Glory' — and others their eyes holding back the tears for they were reminded of what their mentor said, "You either cry your heart out or sing like you've never sung before but don't do both."
Meanwhile, to avoid overcrowding, given the pandemic, the funeral programme was telecast on huge TV screens put up in different sections of the bungalow.
Neil's eldest sister Pauline in her obituary to her brother recalled episodes that touched at the heartstrings of those who listened. She recollected how Neil felt crammed by the classroom and subjects he was little interested in because his passion was music and he had been handling the piano from a tender age like a 'pro' even while his feet were still too short to touch the pedals. Pauline took this opportunity to appeal to those running educational institutions to include music as a subject so that those with a passion for it do not go through life lamenting their missed opportunity. "Music is a powerful medium of expression that our youth can excel in and make a name for themselves nationally and internationally," Pauline said, adding that Neil was one such example of a person who pursued music with exemplary commitment. Family members and members of the choir recalled fond memories of his childhood days, laughter, struggle, his love for one and all and read excerpts from the Bible.
Condolence messages from Prime Minister Narendra Modi and Chief Minister Conrad Sangma were also read out.
Neil's mortal remains were then taken to the Lawmali burial ground where he was finally laid to rest.
The SCC had been in Mumbai since September last to record its magnum opus, a Gospel album, under the direction of world-renowned British composer, arranger, orchestrator and conductor, Nick Ingman.
Nongkynrih was born on July 9, 1970 to former minister AH Scott Lyngdoh and Elvirial Nongkynrih. His love for music started when he was very young. His musical career took off in 1988 when he had left Shillong for Great Britain to study music in some of the best conservatories such as the Trinity College and the Guildhall School of Music and Drama in London. He did numerous shows as a concert pianist in the United Kingdom.
In 2001, he returned to India and started teaching piano in Shillong. He founded the SCC the same year.
Under his guidance, the SCC shot to fame after winning the reality show, India's Got Talent (Season 2) in October 2010.
The choir led by him collaborated with the internationally-acclaimed Fitz William Quartet. It had also teamed up with Ustad Zakir Hussain, Usha Uthup and Shankar-Ehsan-Loy. Their Christmas album in 2011 became India's highest selling non-movie music album.
In 2010, the choir performed at the Rashtrapati Bhavan for former US President Barack Obama and the then first lady Michelle Obama during their visit to India.
Notably, the SCC's version of 'Vande Mataram' was played during the live telecast programme of Indian space rocket Chandrayaan-2's landing on the moon.
Nongkynrih was conferred with the Padma Shri in 2015 for his contribution to the field of arts through music.
Neil had bid an early farewell to this world on January 5 when he breathed his last at the Mumbai Reliance Foundation Hospital. He was 51.