By
Jotham N. Wanñiang
Ever since the prehistoric man picked up a stone and started engraving the walls and ceilings of caves, expression has always been a driving force in the creation of different artworks, with perspective being one of the key influencers. History has known art in various forms, and one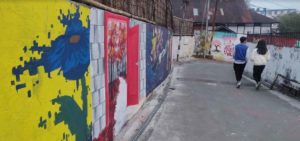 common form is that of murals. Murals are pieces of art that are painted on walls, and with the right intentions, can transform structures of mere concrete into clear messages pregnant with meanings.
TRPDS.Krew is one such group of talented individuals dedicated to this artistry. The name is derived from the word "torpedoes", and like so, their work is obscure yet impactful. The group consists six members going by the tags, Nux (Marwan D. Lyngdoh, Class 11, B.S.F. School), Pogisa Mace (Keith Marbaniang), Vince (Shane V. R. Marbaniang, Class 11, Shillong Commerce College), Zimp (Renan B. Lyngwa, Class 11, St. Anthony's School), Richie (Rishahun Dkhar, BSc, Christian Medical College, Vellore), and Drip (Adrian K. Mawrie, Class 10, St. Anthony's School). Starting out as friends having similar interests and talents, they came up with the idea of implementing their unique styles in art and making a few barren walls come to life by the touch of a brush. Based in Jaïaw, they set out to take a stride to harness their artistic skills to good use.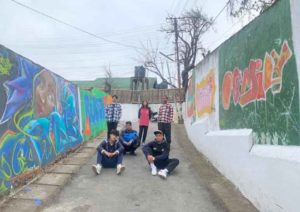 The artists' first undertaking as a group began on the walls of Jaïaw Lumsyntiew in 2020 and they continued later on in 2021 along the walls adjacent and opposite to the initial. With a forte in lifelike art, Richie's first wall painting was during a competition organised by the Fishery Department when she was pursuing her 10th standard. Through her recent wall art, "Door", Richie wants to introduce the viewer to a getaway of peace – to another world of silence and amusement. Beginning his artwork in Mawlai Nongmali back in 2020, Zimp, who etched "Burom" (which translates to respect/honour) mural, wants it to be a reminder to people of how often we tend to overlook the term. He shares similar techniques with Vince, Pogisa Mace and Drip who creatively define their art with letters. Vince's "Save" artwork could be viewed in distinct aspects as he has left it to the beholder's interpretation. The bluebells surrounding the female portrait called "Disparity" depicted by Pogisa Mace provide an eloquent representation of a contrasting observation on life from a particular outlook at a given standpoint. Nux's speciality lies in portraits and abstract art which he implemented on his creation, "Modern Cupid". Looking up to artists like REMS (Arvi Mukhia), TRPDS.Krew hopes to inspire and encourage other aspiring mural artists to pursue this craft. The creative imprints on the walls of Jaïaw Lumsyntiew have definitely awaken to life with admirers from near and far and from all walks of life who would everyday come to click a picture or two for aesthetic delight and for memories. With only the cost of paint standing in their way, these budding artists' dream of engraving purpose to walls remains iron-willed. 
"All you need to paint is a few tools, a little instruction, and a vision in your mind." ― Bob Ross
Contact no: 8729907688