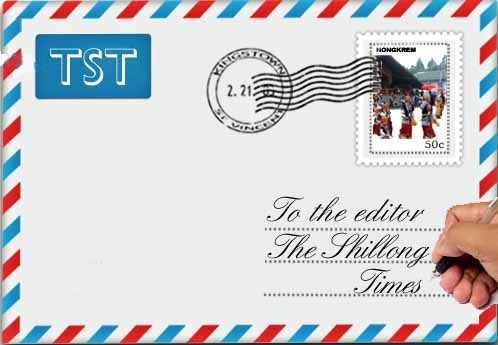 Editor,
The news that appears daily in various news outlet, leaves ordinary people like us in a dilemma as to what is factually correct. Are they strategically truth or lies, or are they political truths or alternative fact? Words like principles, etc., leaves people non-plussed. In perspective, it was in the year 1976, when the Congress party was in power in Assam and in the federal Government. The party in power in Meghalaya was still the then APHLC. Then the Assam Congress decided to host all India Congress Committee in Guwahati where the conference would be attended by the then Prime Minister, Indira Gandhi. At that point in time, the seat of the Assam Government like Meghalaya was still in the nascent stage of settling down after the state's bifurcation, and the Assam Government found itself bereft of a proper place to host its honoured guest namely the Prime Minister of the country. The Assam Government approached the Meghalaya Government to kindly allow it to build a guest house in the land on a hill where the present guest house known as Guest House no 2, later on used as the Governor's residence for some time, and the quarter of the Chief Minister during Tarun Gogoi's tenure.
As such in 1976, various correspondence were shot forth between the two Governments and multiple meetings between bureaucrats of the two Governments were held. If my memory serves me right, the Assam Government even offered an alternative place in the city for Meghalaya to build its house for the convenience of government officials when they travel on duty. After a long deliberation, as Assam acknowledged the ownership of Meghalaya on the issue, an understanding was made allowing the Guest House to be constructed for the purpose with an understanding that the area falls under Meghalaya. Those correspondences should still be in the archives of Meghalaya Government. It therefore is mind boggling to non-government people like us to understand the utterances today while trying to establish who is the rightful owner of the said area that is now under dispute. Boundary disputes happen all the time, between neighbours, tenants or you name them. We can humbly suggest to those in power to look into the past records also when they try to settle present issue.
When I was young people from as far as Palasbari area were still paying their land revenue to the Khasi syiems for that matter, not that they can now go and claim ownership. We fought for statehood without knowing where our boundary is as we became too busy looking for our bowl of soup rather than the boundary pillars we should have. Even God cannot help us as I believe he does not get involved in trivial matters.
With due respect to one and all.
Yours etc.,
D Kitbok Ryntathiang,
Via email
Anti-covid booster shots
Editor,
The Central government's policy on Coronavirus booster shots will leave a large section of the population unvaccinated with the booster dose. The booster shots will be available only at private vaccination centres and they will not be free for most adults except healthcare workers, frontline staff and those above 60.
In fact, the Ministry of Health and Family Welfare had announced that all eligible adults would be able to receive booster for Covid-19 from April 10. However, Prime Minister Modi had announced that those above 60, frontline and healthcare workers would be able to avail booster doses from January 10. The official in charge of India's Covid-19 vaccination drive had said that the country would focus first on vaccinating all eligible adults before introducing booster doses. In fact, this kind of inconsistencies and lack of understanding between officials and the PM has badly affected the Union Health Ministry's decision to vaccinate India's entire population with the booster dose.
While some experts say that booster doses are not required for entire population, some others say that booster doses are required in the context of reinfection. Further, no clear consensus exists over which vaccine should be used for booster shots. Also, intensive studies have not been conducted about boosters. With regard to affordability, boosters are available at private vaccination centres and a large section of the population has to pay for it. High cost of the vaccine and the government's policy will have an impact on poorer people. Boosters must be made available in government centres and the entire population must be vaccinated with it for free.
Yours etc.,
Venu GS
Kollam
India living in a fantasy world
Editor,
Apropos of "Indian Ambivalence Vis-Sa-Vis the Russian Ukraine War," by Deepa Majumdar, (ST April 11, 2022),I fully agree with the writer. Let India acknowledge herself as the fence sitter. Even if fence sitters needs to advise, it should know two English words Active and Passive not voices but in terms of what all see on satellite imagery. Let us charge that all war journalists are siding with Ukrainians. But satellites don't lie. They had saved many from cyclones, tsunamis, floods etc with pin-pointed accuracy be it place or time. Time is executed by atomic clock. So those bodies strewn around in Kiev or Mariupol etc., are real before the Russians left the place.
With satellite imagery we now know who the aggressor and the aggressed are; who the subject is and who the object. Hence for the fence-sitter to say "India tells both sides to de-escalate" goes to prove that the satellite imagery has been blatantly Ignored. For fence sitters the best option would be to remain silent.
Yours etc.,
M. Khyriem
Shillong 14