By Priyan R Naik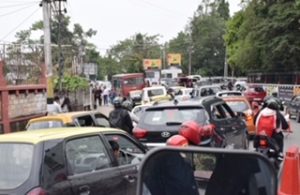 With the onset of the pandemic, I, like most others, had forgotten
what it was like to go on a holiday. Treating oneself to a vacation
has its own charm, where one looks forward to doing something
exciting, especially after spending months of staying cooped up at
home, and maintaining a socially distanced lifestyle. However, as the
case count has been witnessing a downfall along with easing of
regulations, I decided to take a trip to Shillong after reading about
its rainfall, scenic landscapes, unique culture, and warm-natured
people. I was determined to visit the city at the first available
opportunity.
I was not disappointed for a single moment. The verdant green peaks
and pine trees, the cascading waterfalls, the pristine lakes, and the
trekking trails, as well as other tourist spots made for a memorable
sightseeing experience, leaving me mesmerized.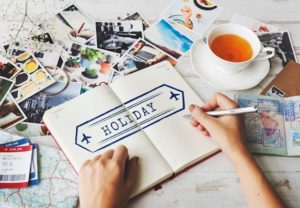 There was one noticeable aspect about Shillong, however, that was
impossible to overlook – its harrowing traffic jams. Travelling by
taxi from Guwahati, there was a long snaking queue of motor cars
clogged up in a congestion, waiting patiently for the cars ahead to
move. Fortunately, it wasn't in the direction of cars entering but in
the direction of cars leaving Shillong. Ah, office timings! I thought
to myself, perhaps everyone is trying to report to their place of work
on time. Soon there were more queues in my direction as well, as I
approached Shillong delaying my taxi as it slowly nudged up to my
place of stay, The Shillong Club, located in the center of the town.
This is just a once in a while occurrence, I thought and a traffic
delay wasn't going to either spoil my mood or affect the Shillong
holiday that I had planned for, assiduously.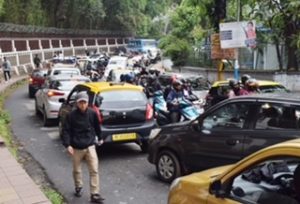 The following day, as I made for my day's outing to see the misty
mountains of Cherrapunji, there it was again. Quite early in the
morning and exactly in the direction I wanted to go to witness the
bountiful rains and rivers falling off the mountains in thunderous
waterfalls.  Long and snaky, the cars moved slowly one following the
other, till we had travelled a considerable distance and almost
crossed the nearby village of Mylliem. Lest I forget, we encountered
another road blockage as we returned in the evening, enroute Shillong.
It was the same story every other day – be it a trip to Dawki and
Mawlynnong or a trip to the Elephant Falls, the Shillong Peak, and
other tourist spots that Shillong is famous for. Although clogged
traffic ruled the roost, what was noteworthy was the very disciplined
manner in which every car driver carried him/herself. To add to my
amazement, there were no fancy cars, no big egos, no road rage, no
honking, no one seemed to be in a tearing hurry. Instead calmness and
serenity pervaded all around. This civil mannerism is striking for a
city-dweller, like myself, where the opposite is the norm.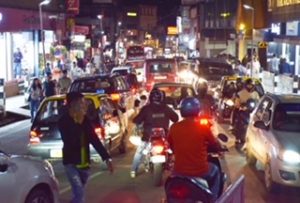 One doesn't witness too many buses within the city, and the presence
of other types of public transport is fewer. The ownership of cars
takes precedence, almost like a sign of prosperity.  The question of
having 'pedestrian only' lanes or coaxing the public to abandon their
private vehicles, park them at home and use a public bus does not seem
particularly important looking at the stoic manner in which Shillong's
residents appear to accept the ravages of traffic. That the traffic problem would get only worse with time, did not seem to occur to the several locals who seemed to be happily moving about performing their
day to day chores.
Hailing from Bengaluru, Shillong's traffic snarl-up does not seem
either formidable or unique. Bengaluru's notorious traffic is a
favorite dinner table and WhatsApp group conversation topic. Like in
Shillong, the size and capacity of the city's roads have always been
the same. What has changed is the number of vehicles making roads that
were once adequate but now look narrow. Solutions like widening of these roads or building flyovers and underpasses will only generate
more vehicular traffic that will only shift traffic congestion to a
neighboring intersection. Shillong with a traffic problem similar to
Bengaluru made me feel completely at home!
*************
Priyan R Naik is a columnist and a freelance journalist living in
Bengaluru, India. He appears in the Deccan Herald, Ceylon Today from
Colombo, Hindustan Times, The Hindu, Hindu Business Line, Times of
India, Navhind Times, Daily Star of Dhaka and on various online
websites.