Food items air-dropped atop houses in flood-ravaged Silchar
Assam CM makes aerial survey; assures speedy rescue, relief ops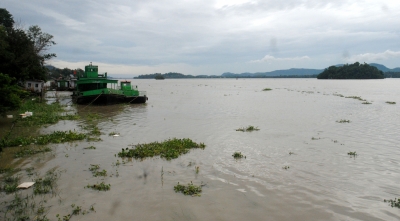 Guwahati, June 23: Relief items, including food and drinking water, were airdropped by Indian Air Force (IAF) choppers atop houses and buildings across flood-ravaged Silchar town in Cachar district on Thursday even as close to three lakh people in the southern Assam district remain stranded in one of the most devastating floods in years.
Addressing mediapersons in Silchar after making an aerial survey of the flood-submerged areas, Assam chief minister Himanta Biswa Sarma said that rescue and relief operations in the district would be augmented in the coming days and that airdropping of relief items by IAF helicopters was carried out in almost 30 buildings on Thursday morning.
"Packets containing food items, water bottles and essentials airdropped today in flood-hit Silchar by helicopters. We plan to continue such air-droppings for our stranded people in the days ahead, apart from the regular relief," Sarma said, after chairing a meeting at the Cachar DC;s office to take stock of flood relief and rescue operations to review the situation.
The chief minister directed the district administration to prepare a ward-wise micro-level plan for maximum relief work with the help of local people and public representatives for Silchar town.
It may be mentioned that teams of the National Disaster Response Force (NDRF headquarters) from Bhubaneswar had landed at Kumbhirgram airport in Silchar on a special flight on Tuesday afternoon to help the administration intensify rescue and relief operations in flood-submerged Silchar town.
Reassuring people in the deluge-affected districts of special measures, the chief minister informed that more columns of the Indian Army, would arrive in Silchar on Friday to help in the relief and rescue operations.
He further said that the situation in the flood-affected district should improve in the next 48 hours provided there was no further rain.
To a query on embankment repair, the chief minister categorically said no embankments in the state would be built before October as any such work would not be feasible during the monsoon season with rising water levels in the Brahmaputra and Barak rivers.
It may be noted that a breach at the Bethukandi embankment along the Barak river had resulted in water gushing from the river and submerging Silchar town overnight.
"This season, more water has come down the hills ….when people talk about damaging embankments, which I have seen in some videos; there cannot be a permanent solution to floods. This is a created flood and not a natural flood and hence a permanent solution is difficult," Sarma said.
The chief minister further said that he was in constant touch with the Meghalaya government to ensure that the supply of relief items to Barak Valley through the state could continue uninterrupted.
"We are in constant talks with the Meghalaya government through video conference in this regard. The Meghalaya government has helped us a lot (in ensuring that relief could be supplied to Cachar through the state). We are also in touch with the Khliehriat (headquarters of the East Jaintia Hills district) DC," Sarma said, while informing that the "target will be to supply one lakh litres of drinking water every day to Silchar."
It may be mentioned that vehicular traffic movement has since June 20 been suspended along the National Highway-53 (new NH-37) on a stretch between Rongpur Barak bridge point and Rongpur police outpost in the Silchar-Jiribam section after more than 50 cm in depth on both sides of the four-lane NH-53 (new NH-37) stretch from Rongpur Barak bridge point to Rongpur police outpost (Silchar-Jiribam section) was submerged by flood water.