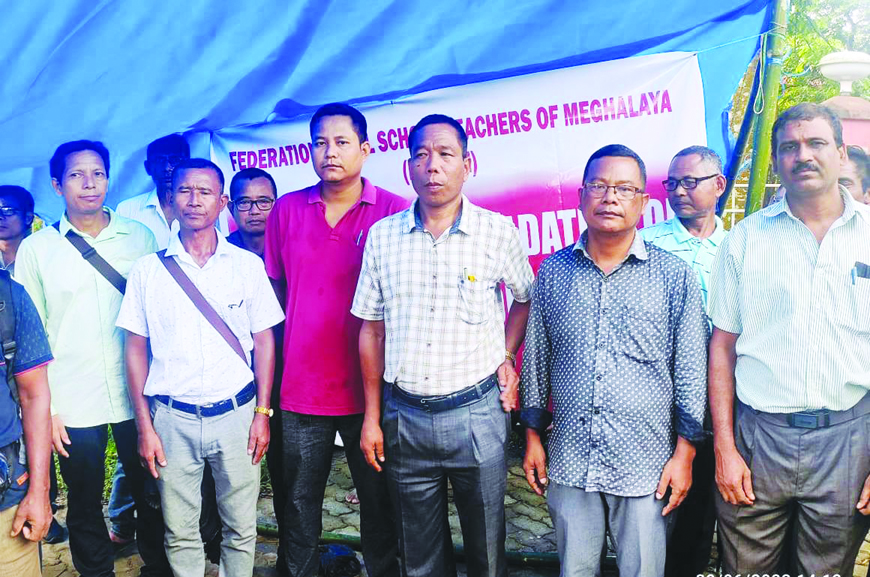 TURA: Meghalaya a·dokni adhoc skulrango skigiparang, an·tangtangni dabianirangko knachakjaengani gimin sorkarini kosako jegalanirangko dake jingjengattokengon, skulrango poraienggipa chatro chatrirang neng·nikanirangko man·jana gita ta·raken adhoc skulrango skigiparangni dabianirangko chu·sokate on·china Garoland State Movement Committee (GSMC) dolba, a·dok sorkariko didiataha.
Meghalaya a·dokni adhoc skulrango skigiparangna dormahako gong 18,000-chi bariatenba, bilsio 5 percent ka·e bariatchina dabiengachim indiba skigiparangni dabianirangko sorkari knachakjaengani gimin re·anggipa Mongolbar salonin skigiparang, Federation of All School Teachers of Meghalaya (FASTOM)-ni ning·o kamrangko ka·gija jingjengatanirangko dakengachim.
Indake ong·engon, da·o jadokni porikkarangko ra·chichaengmiting somoio skigiparangni iandake jingjengataniara skulo poraienggipa bi·sarangnasa gimaani ong·enga ine GSMC-ni assistant general secretary Cyril A Sangma parakatenba, skulo poraienggipa chatro chatrirangni namgnina skigiparangni dabianirangko knachakchina a·dok sorkariko didiataha.
"Skigiparang ru·uta bilsirangonin an·tangtangko on·kange a·songo lekka porako tang·doatna kam ka·engoba Meghalaya sorkari, skigiparangko dal·e ra·ja gita ong·enga aro iani a·selan Meghalaya a·doko aro mongsongbate Garo Hills-o lekka pora tang·dona man·jaenga. Skigipa gri maming dakeba a·song namroro silrorona man·jawa, uni gimin skigiparangko mande ra·genchimosa a·songba namroro silrorona man·gen," ine GSMC-ni asst general secretary Cyril A Sangma parakatenba, adhoc skulrango skigiparangni dabienga gita dormaharangko bariate on·china a·dok sorkariko didiataha.