Normalcy takes a hit; uneasy calm prevails
Sporadic incidents in city, pressure groups announce agitation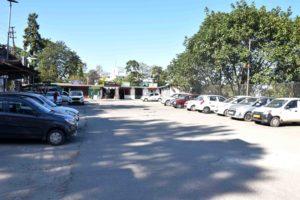 SHILLONG, Nov 23: A mixed feeling of tension, fear and anger was palpable in the city and elsewhere as the mayhem unleashed by trigger-happy security personnel from Assam at Mukroh village in West Jaintia Hills on Tuesday is gradually snowballing, leading to fears of deterioration of law and order.
Fear of retaliation over the Mukroh killings was evident when a group of people from Meghalaya burnt down a forest beat office in Assam's West Karbi Anglong district.
The KSU owned responsibility for the torching of the forest beat office and an Assam government vehicle at Mukroh. It alleged that the Meghalaya government had failed to protect its citizens.
While an SUV with Assam registration was torched at Luckier Road on Tuesday evening, two more vehicles – one from Assam and another with Haryana registration number – were torched in Madanrting area on Tuesday night.
At Laban, the windshield of an Assam-registered vehicle was smashed.
There were reports of burning of tyres at Sunny Hills in Jaiaw on Wednesday night.
Repercussions of the Mukroh incident were witnessed even in Guwahati where a couple of tourist taxi drivers from Meghalaya were heckled and assaulted at Paltan Bazar.
Members of the Khasi Hills Tourist Taxi Association confirmed the incident saying two drivers from Jowai were assaulted in Paltan Bazar and was asked to leave immediately.
Fearing a backlash, vehicles bearing Assam registration number were being prevented from travelling to Meghalaya.
Pressure groups, while fuming over the killing and the apparent lack of the security apparatus in the border areas, have announced a series of agitational programmes from Thursday.
The KSU observed Wednesday as black flag day throughout Khasi and Jaintia Hills.
Panic gripped residents when a large number of KSU members carrying black flags gathered at Motphran, leading to a brief confrontation between the police and the agitators.
The KSU members told the police personnel to go to the borders but there was no further flare-up.
The KSU activity pushed shopkeepers at Motphran, GS Road and even Police Bazar to shut shop for the day.
There were lesser number of vehicles on the road and the number of pedestrians had significantly decreased by Wednesday afternoon.
Meanwhile, pressure groups announced a series of agitation starting with a sit-in on Thursday near the Shillong Civil Hospital junction. It will be followed by a candle-light vigil at 3 pm, they said.
KSU and FKJGP leaders held a meeting to condemn the trigger happy Assam police for firing on unarmed civilians.
KSU general secretary Donald Thabah said atrocities on locals have not happened for the first time.
"Enough is enough. We have been made a scapegoat in the border conflict between Assam and Meghalaya," he said, adding that the groups would also organise a non-cooperation movement and appeal government servants to refrain from attending offices from Friday.
FKJGP president Dundee Khongsit condemned the incident at Mukroh and blamed the state government for negligence.
Four groups from Garo Hills – the ADE, FKJGP, AYWO and FAF – have requested the closure of shops in Garo Hills for two hours from 1 pm to 3 pm on Friday as mark of solidarity with the families of the victims killed in the firing.
The organisations made it clear that it was not being forced and added that emergency services like ambulances, pharmacies and school students would be exempted from the same.
Meanwhile, the GSU East Garo Hills zone said its members will don black badges on November 24 in solidarity with the victims' families.
Several tourists, who were stranded in different parts of Meghalaya, including Shillong, were escorted safely to Guwahati and other places by the Meghalaya police on Thursday morning.
Prior to their departure, some of them said they were leaving as the situation in Shillong was tense.
"Such a situation will hamper the tourism industry of Meghalaya and affect the economy of the locals.
Live in peace," one of them said.
Meanwhile, a condolence and prayer meeting was held at Soso Tham auditorium following the incident at Mukroh, West Jaintia Hills, while a prayer service and candlelight vigil was observed at the Cathedral of Mary help of Christians.
The prayer meeting at Soso Tham auditorium, convened by Synjuk Ki Rangbah Shnong, was attended by members of the Shillong All Faith Forum, members of Khasi Jaintia Churches Organization and members of different civil societies, besides political leaders and government functionaries.