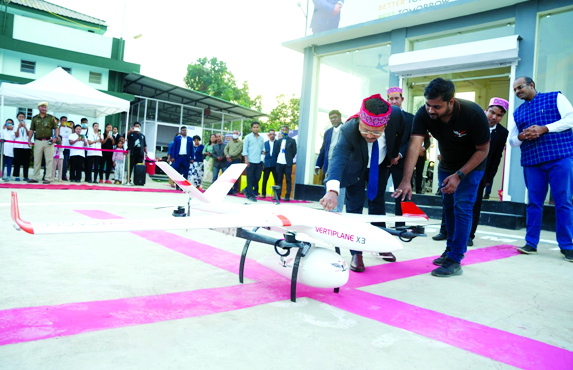 SHILLONG, Dec 5: Meghalaya on Monday unveiled the first drone delivery hub and network of the country at Jengjal near Tura in West Garo Hills.
The drone delivery hub intends to improve the universal access to healthcare in the state by delivering vital supplies like drugs, diagnostic samples, vaccines, blood and blood components quickly and safely to remote regions of the state using a dedicated drone delivery network.
Funded by the World Bank, the drone service is a joint initiative of the Meghalaya Health Systems Strengthening Project and Techeagle, a drone delivery start-up.
Health Minister James PK Sangma inaugurated the drone delivery hub built on the premises of Jengjal sub-divisional hospital and also launched the first official drone, a customised Vertiplane X3, that delivered medicines to Pedaldoba PHC, located at a distance of 68 km, in less than 30 minutes. A roundtrip between Jengjal and Pedaldoba by road normally takes about 5 hours.
The drone, which can carry a payload of around 3-5 kg, delivered different healthcare products including snake venom (2 pax), Labetalol (4 pax), Human Albumin (1 pax), Cefotaxime (typhoid dose) (50 pax).
Sangma was thrilled that Meghalaya had become the first state to institutionalise this initiative and have a system that can be expanded to other areas of the state as well.
Ramkumar S, Project Director of Meghalaya Health Systems Strengthening Project, said the drone station is meant for regular delivery of medicines, vaccines, blood samples, anti-venoms, etc.
Techeagle's co-founder Anshu Abhishek claimed this is Asia's first drone station that caters exclusively to the delivery of healthcare system.