Wan Kmoiñ Wan
Observing the state's 51st anniversary, Sunday Shillong engages with Meghalaya's oldest athlete and marathon runner, Kmoiñ Wahlang deliberating on the trajectory of the state.
Older than the state, Wahlang born and raised in the hills of the state has seen it all – lived structures rising and dismantled, and governments come and go. What remains a constant with her is her undying devotion towards running, setting a formidable example for fellow humans. Wahlang said that the state has seen growth in all spheres as compared to before it got its own statehood, now that Meghalaya has completed 51 years. "No doubt more needs to be done, but things are better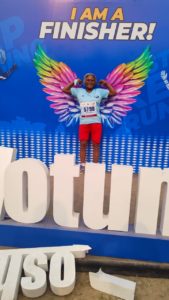 now as compared to the initial days of statehood. Not only Meghalaya, the country is doing great from what I've seen after having travelled to places like Mumbai and Kolkata," she said.
Wahlang further observed that connectivity has improved and that is a boon of sorts in the past 50 years. "In my growing years, we lacked on all fronts of development. As a young girl, my family and I had to go to markets in Mawphlang and Weiloi and then Umjarain. Now, we visit the market near my home place in Mawkyrwat," one of the oldest marathoners said.
She said that she can now get a vehicle from near her house if she wants to go anywhere.
Observing trends among the young, Wahlang remarks, "Sadly, people now are not willing to walk anymore which is not healthy". As a champion for fitness, this shift is disconcerting to her.
With elections approaching, when asked what life lesson she'd extend to the lawmakers, she said that she would like to request the MLAs and political leaders that they should be ready to help all. "It is not right if they reach out only to a select few" suggests, Wahlang.
She also urged the state government to connect with and assist the athletes of various sports disciplines, who have the potential to bring laurels to the State. Speaking from experience, Wahlang notes "The athletes need the support of the government to participate in national and/or international forums. The athletes of our state are not in a position to manage without support."
As a woman of the state and its matrilineal inheritance, Wahlang discerns, "It is a wonderful thing that our women earn a special status as descendants of a matrilineal society. However, in reality women still face various kinds of discrimination and atrocities even today. I feel more needs to be done when it comes to empowerment of women. Our women need to feel safe."
Setbacks, a part of life
During an interaction with The Shillong Times, she revealed that her journey as a runner began on medical advice due to her health condition in 2017. Wahlang revealed that she first participated in the 21km marathon from Mawsynram to Lawbah in 2018 as suggested by her son.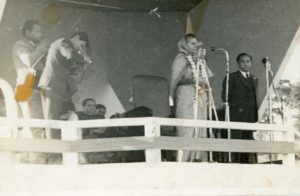 "After this (2018 marathon) I participated in another one in Shillong that was organised by a non-profit organisation called RUN Meghalaya. The NGO then took me to participate in the Tata-Mumbai Marathon in 2019. It has been life changing and I'm grateful to each one for making this possible" she said.
According to Wahlang, it was her ability to run which furthered her chances to travel by air to Mumbai and Kolkata to participate in the marathon event. Giving an insight to her struggles, Wahlang reveals that the journey has not been a cakewalk, as she could not focus entirely on her running since she has an ailing husband to tend to, who has been unwell since 2019. She further disclosed that she has been paying the medical expenses of her husband from the money that she received as prize money for participating in the marathon events.An unfettered Wahlang, however, expresses her gratitude to one of the doctor who has been a messiah for her and her family when her husband had taken ill.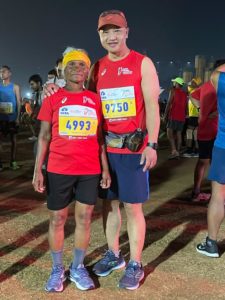 Know Kmoiñ
One of the oldest woman marathoners in the country, Kmoiñ Wahlang is an inspiration for many even though she continues to struggle to support her family. Wahlang, who will turn 75 next month, was placed first among runners in the 70 years and above category during the Tata Mumbai Marathon which was held in Mumbai on January 15.
She secured the first place being the only competitor in the category and was part of the Team RunMeghalaya comprising 14 runners who took part in the Tata Mumbai Marathon. Earlier, Wahlang was in the news when she had successfully finished the 42.195 km run with a timing of 4 hours 33 minutes and 55 seconds during the Tata Mumbai Marathon in January 2019. She was also a competitor in other marathon events held in Kolkata and Assam.Presently, Wahlang is equipping herself to contend at the National Voters Day Run 2023, which will be held in Shillong on January 25.
– Lamphrangbor Nongspung and Esha Chaudhuri