A Celebration of Documentary Films of the Northeast
Yoshwameki Ropmay writes on the art of filmmaking, its impact on the lives of people and its role in stirring dialogue on issues inherent to Northeast India.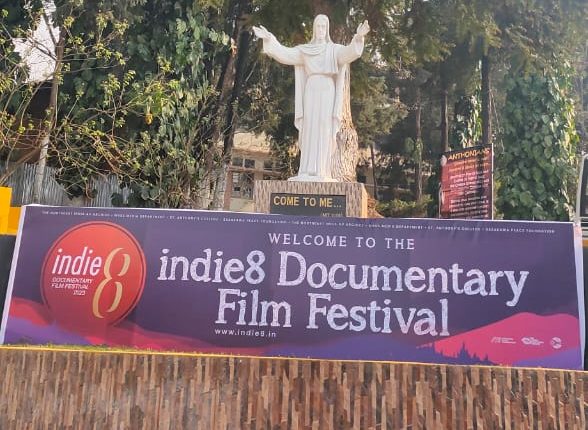 By Yoshwameki Ropmay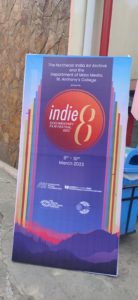 Films have a ubiquitous presence in our lives. They are a powerful form of entertainment and storytelling that echoes lasting impressions in the hearts and minds of people all over the world. Whether it's a gripping drama, a hilarious comedy, or an action-packed adventure, or a moving story from ground zero, they have the ability to transport viewers to different places and times, eliciting a wide range of emotions. Showcasing the power of creativity and critical educative role, Sunday Shillong presents to its readers a first hand account of the indie8 Film Festival from March 8 to 10, 2023 with a special focus on documentary films from Northeast India.
In its second edition yet, the indie8 Film Festival was organised by the Northeast India Audio-visual Archive of the Department of Mass Media, St. Anthony's College, Shillong and the Sasakawa Peace Foundation, Japan. The festival was a call to filmmakers wherein 22 films from all over the northeast were submitted and 16 were chosen by an esteemed panel for screening. Filmmakers from all over the northeastern region were present for the three day gala. A special screening of 'Writing with Fire' an Oscar nominated film directed by Rinku Thomas and Sushmit Ghosh was chosen by the organisers to close the festival. Although no particular theme was kept in mind while making the selections, the documentaries screened over the course of three days entailed a range of topics including social issues, cultural heritage and environmental concerns. Another feature of the festival and possibly a once in a lifetime opportunity for many students in the state was the Masterclass by Borun Thokchom and the directors of 'Writing with Fire" wherein they shared insights on the art of filmmaking and the craftsmanship involved with the art.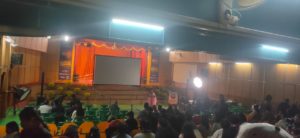 Some of the notable documentaries screened at the event were 'I Rise' by Borun Thokchom, 'My Name is Eeooow' by Oinam Doren, both of whom were proud alumni of the college, and 'Rosemwala' by Sanjib Das. The film festival presented not only an opportunity for the audience to learn but also for the filmmakers to express their inspiration and the creative process that went into making the film thereby sharing a pool of knowledge with those present. After each film was screened, the audience were presented with a forum to interact with the directors and filmmakers, themselves. Many students relished the rare opportunity conferred to them as they engaged in dialogue, shared firsthand thoughts with those who shared similar desire, fascination and depth for films and cinema.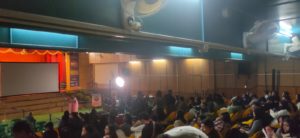 In conversation with Borun Thokchom on his film based on Laishram Sarita Devi, he shared, "After the screening of my film, many women had come up to me saying how they were inspired by her (Sarita) because she was not only portrayed as an accomplished boxer but also how she overcame many challenges as a mother and a wife to achieve success."
Oinam Doren, another director at the festival said, "My film is based on the Kongthong village. After the film was released, many positive developments took place as the village was adopted by a member of parliament from Rajya Sabha. My job was to tell a story and I realised that not many people in Meghalaya itself were aware of the existence of a whistling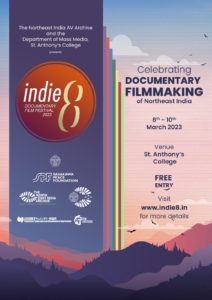 village and now the conversation is about preserving their local traditions."
In August of 2013, the Mass Media department at St. Anthony's College, Shillong, in collaboration with the Department of Arts and Culture, Government of Meghalaya, and the Directorate of Information and Public Relations, organised the indie8 Film Festival providing a platform for filmmakers in Meghalaya to showcase their extensive talents over three days. What emerged as a result was the awareness that young aspiring talents were always on a lookout to broaden their creative perspectives into avenues that they would want to venture into. It was also a valuable opportunity for school students and community learners to interact with renowned national and international filmmakers, exposing them not only to the finished products of films but also to the challenges involved in creating such works of art. Above all, the festival instilled a sense of possibility in young minds by showcasing the multilingual and multifaceted nature of storytelling, proving that there is no one language or way to tell a story. Considering the success of the first event, the second edition was held in the past week.
"We realised that independent filmmakers of the Northeast do not have a platform to showcase their films and therefore in 2013, we organised the first edition of indie8. Ten years later, we wanted to showcase documentary films because there was a limited audience for it owing to a lack of exposure and a lack of screening opportunities at schools and film clubs. Therefore, it was a conscious decision on the part of the organisers to screen documentary films." said Head of the Mass Media department and Festival Director, Dr. Cherry A. Kharshiing.
A student of the college and attendee at the festival, Naki Howni Laloo said, "What we are learning here is informative and now we get a clear picture about how the filmmakers study subjects and the environment around them; which in a way is inspirational." These films provided them with a perfect opportunity to not only think about the issues related to their surroundings but also beyond their imaginative spectrum.
Rashmi Singh, an attendee at the event said, "I believe that as youth, we need to be aware of this genre of films because it can have an impact on our perspectives on life and the knowledge disseminated. This is a really good initiative by the college."
As films have the power to inspire, entertain, and educate, they are an important part of our cultural heritage and a tool to shape the way we view the world. The process involving a large team of professionals and their creative identity to bring a story to life is truly enchanting. As a story can be narrated in many formats and one such format is also a documentary. A powerful form of storytelling that provides a glimpse into the real world and sheds light on important issues covering a wide range of topics, from social issues to history, politics, nature, and converging marginalised voices, thus making the event a success.