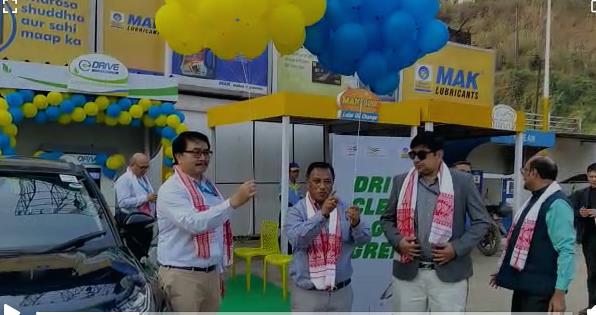 NONGPOH, MARCH 30: Cabinet minister  Alexander Hek  today inaugurated the first electric vehicle (EV) fast-charging station at the outlet of Bharat Petroleum Corporation Ltd (BPCL) at Jorabat in Ri Bhoi District.
AL Hek lauded the initiative of the BPCL in launching this first of its kind EV charging in the state and said that by introducing this kind of initiative, it will tremendously reduce pollution in the state.
He also stated that Meghalaya being known as a tourism destination, this initiative will give immense benefit to the environment as well as promoting tourism in the state of Meghalaya, particularly for tourist from abroad who are very concern with their health and environment.
Meanwhile, the State Head Retail of BPCL North East, Pankaj Das informed that the company has launched 17 new EV stations at three major highway corridors in the selected existing outlet from Guwahati to Dibrugarh, from Guwahati to Serampore, Guwahati to North Lakhimpur. He also informed that now the BPCL is launching the first EV charging station in Meghalaya at Jorabat and that soon, the company will also extend this facility to Nongpoh, Mawiong, Shillong and Jowai in Meghalaya beside Silchar in Assam and Aizawl in Mizoram.
He informed that using of the EV charging stations of the BPCL is very simple and easy, one has to download the Hello BPCL app available both on android and IOS device and that the customer on his own without any help can operate the simple user interface of the application for charging their electric vehicles, as the BPCL has digitized the entire EV charger locator, charger operations and transaction process through the Hello BPCL app for an online hassle free and transparent user experience, though support staff will be available if needed.