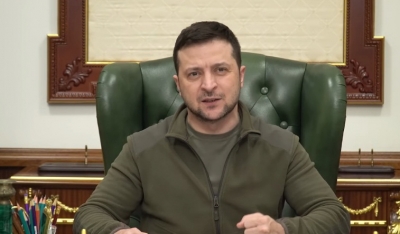 Shillong, April 12: Volodymyr Zelenskyy, the president of Ukraine, wrote to Prime Minister Narendra Modi pleading India's intervention in the conflict between Russia and Ukraine and requesting more humanitarian aid, especially medical supplies.
Ukrainian Deputy Foreign Minister Emine Dzhaparova handed over the letter on her four-day visit to India to Union Minister of State for External Affairs and Culture Meenakshi Lekhi.
The two leaders discussed issues of mutual concern on the international and bilateral levels. According to Meenakshi Lekhi, "increased humanitarian assistance" has been promised to Ukraine. The meeting, according to Dzhaparova, was "fruitful."
I was glad to pass @M_Lekhi a letter from #Ukraine's President @ZelenskyyUa to 🇮🇳 Prime Minister@narendramodi. As our countries 🇮🇳&🇺🇦 have mutual interests & visions, intensified dialogue on the highest level will be fruitful for our people and security in the world. pic.twitter.com/U6NQe7K5KI

— Emine Dzheppar (@EmineDzheppar) April 11, 2023
Meenakshi Lekhi and Emine Dzhaparova met on Tuesday before her speech at the Indian Council of International Affairs (ICWA). Since the Russia-Ukraine war began in February last year, she is the first senior Ukrainian official to visit India.
During her speech at the ICWA, Dzhaparova responded to a query by saying Ukrainian President Volodymyr Zelenskyy would like to speak at the G20 summit in India. The G20 summit in Bali was addressed by the president of Ukraine via video conference.
Commenting on the ongoing conflict with Ukraine, the deputy foreign minister said that India, as a world power holding G20's current presidency, can contribute more to bringing about peace.
Prime Minister Narendra Modi has had numerous conversations with both Russian President Vladimir Putin and Ukrainian President Volodymyr Zelensky since the war with Russia broke out in February of last year.