By multiple authors (TWF)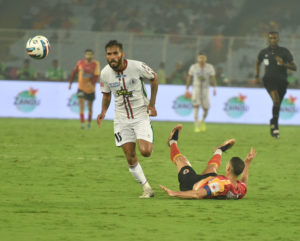 Growing enthusiasm for football drives improvements in the U.S. and India.While the 2026 World Cup is heading to North America and the soccer team in India is stronger than it has ever been, the spotlight has never been brighter on the two countries. Carson Hanover, Alan Morgensztern, Adam Allsbury, and Leah Rainwater from the USA and Ayush Gupta from India report
As a season ticket holder for Sporting KC,  devout soccer fan Suzee Schulz-Marks spends a lot of time in the front row of section 119 at Children's Mercy Park, cheering loudly for her hometown team in Kansas City, Kansas.

Halfway around the world, in an old neighborhood north of Kolkata, India, 30-year-old Arkadeep Dey has painted his bedroom in yellow and red, the colors of his city's premier football club, East Bengal FC, known for its traditional rivalry with the Mohun Bagan club of the same eastern metropolis. Dey is a die-hard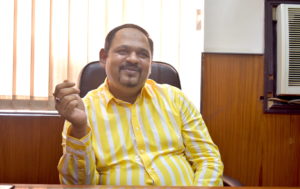 East Bengal fan and makes sure to never miss a game.
Call it football or soccer, it's the most popular sport world-wide.
Billions of fans play, watch and discuss the sport in almost every country around the world. Many – such as Argentina, Germany and Brazil –  have premier national teams that compete on a global scale.
But the United States and India – global powers in nearly all arenas – fall short on this score.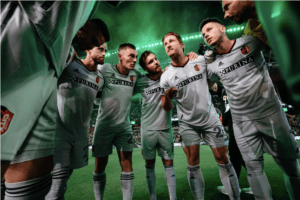 Fans and experts alike have raised questions about the countries' infrastructure and dedication to fielding skilled teams. With the 2026 World Cup heading to North America and the soccer team in India being stronger than it has ever been, the spotlight has never been brighter on the two countries to perform well in the sport.

Kurt Austin is the communications director at Sporting KC, a professional soccer club located in Kansas City, Kansas. He believes the 2026 World Cup will be historic.

"The 2026 tournament is poised to break the all-time World Cup attendance record set in 1994, when over 3.5 million fans attended World Cup matches in the United States," Austin said.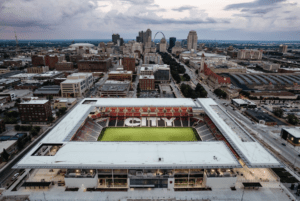 The 2026 World Cup will also be different from earlier ones in sheer size. The tournament will hold twice the number of matches as were held in 1994 –104 matches vs. 52– with an unprecedented 48 teams from around the world participating.
The tournament features matches in many locations in the U.S., Mexico and Canada. One of the U.S. locations is Kansas City, Kansas, which Katherine Holland, the director of the city's bid to host the cup, called an ideal choice.
"I think our investment in the sport of soccer has been pretty substantial," Holland said. "We are also centrally located, so we're no more than a four-hour flight from any host city including places in Canada and Mexico."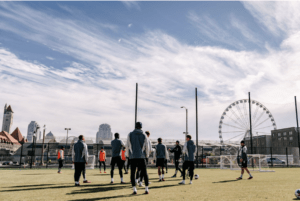 The city is already preparing for the massive event. Kansas City International Airport recently expanded its airport terminal with a $1.5 billion dollar renovation. The city is planning to deliver a transit system, which may not be permanent but will allow visitors attending games to skip renting cars. Arrowhead Stadium, where the Kansas City Chiefs American football team plays, will host the matches in Kansas City. But the stadium needs some renovations, Holland said, such as removing some seats on one side to accommodate for the width of the soccer pitch.
A Goal to Get Better

As host cities prepare, the U.S. and Indian teams are continuing to move toward their longtime goal – more wins.
An article from Time says that while the men's team has struggled to find its place as a force on an international level, it's also improved significantly in the past few years.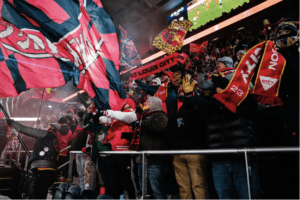 With the likes of promising young players such as Christian Pulisic, Gio Reyna and Weston Mckinnie, the future is looking bright for the U.S. men's soccer team. The team performed better than expected throughout the last World Cup in Qatar, eventually exiting in the round of 16 following a loss to the Netherlands.


The U.S. soccer program has evolved greatly since its inception, and has enjoyed success in recent years. The international women's team has won four World Cups over the past 30 years.

Within the United States, Major League Soccer has recently expanded, bringing in new teams such as St.Louis City and Charlotte F.C. amid efforts to popularize the sport. The MLS is also trying to incorporate having teams sign local players from development academies directly to the MLS, rather than bringing in older legends from European leagues.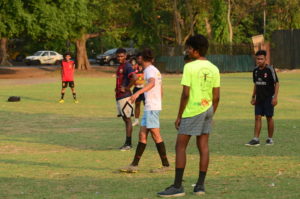 This effort, known as the Homegrown Player Rule, was established in 2008 and is a way for clubs in the United States to be incentivized to invest more in the local development of infrastructure in order to cultivate higher level talent. This domestic-grown talent will also serve as a boost to the United States national team, offering a greater pool of talent from which to recruit players.
Loyal American fans are optimistic about their squad despite its challenges and are excitedly looking ahead to the tournament.
"I'm super-stoked about the 2026 FIFA World Cup coming to Kansas City. It's gonna be amazing," Schulz-Marks said.
Schulz-Marks hopes to watch a match in her hometown.
"With the World Cup, it is gonna be hard to get into any games, and my husband and I actually just started saving up for that fund," she said. "It's just a matter of the 'luck of the draw' basically. So yeah, we would love to be there, is it gonna happen? I'm gonna say yes. I'm just gonna manifest it."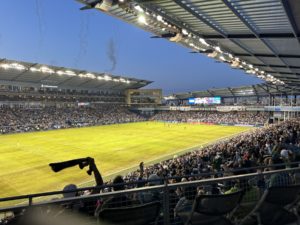 On the other side of the globe, fans in India are also excitedly looking toward the World Cup as their teams seek to improve. Soccer was brought to India by British colonizers back when the country was a part of the British Empire. From there, the sport became more popular – although the top sport in India is still cricket.

During the World Cup, the walls lining the streets of Kolkata are covered in graffiti displaying support for other big soccer giants such as Brazil or Argentina. The nation's own team, meanwhile, hasn't been able to find much success on an international scale.

India Football Association (IFA) Secretary Anirban Dutta said India is trying to improve its soccer infrastructure. Most important, he said, is to invest in grassroots programs.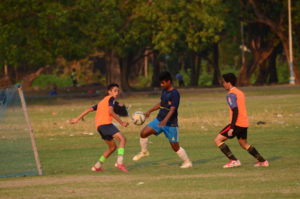 "Because grassroot is where you start developing players, the better quality players you have playing the pro league, the better quality of games you offer, the more spectators there are," Dutta said. "If you look at it, you will see the EPL (English Premier League) has become hugely popular in India. It is based on one simple thing; that is the game. The quality of the game is very high, the standard of the game is very high. So people really enjoy watching those games."
Dutta said people will go to great lengths to see their favorite teams play.
"People will stay awake at night to watch those matches," Dutta said. "And that is because of the standard of the game they are playing. So if we can really develop good players in our grassroots projects, then we have good quality players, which affects the quality of the game, which also brings up the standard of the game. And what does it attract? More spectators and popularity."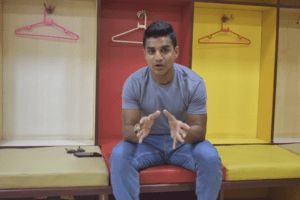 Soccer fan Arkadeep Dey said the sport should be made more accessible to younger Indians.
"In the coming years, I think more stress should be given to Indian youth systems," Dey said. "We need to develop football culture; we need to develop football clubs which will be grooming the young players."

Dey also suggested India look outside its borders to build a better team, perhaps considering allowing non-resident Indian players to join.

Challenges Loom

But both countries face challenges. India's progress, for example, has been slowed by instances of corruption in the hierarchy of its soccer programs.

Indian football had one of its darkest moments last year when FIFA's governing body suspended the All India Football Federation (AIFF), citing undue influence from third parties that violated FIFA statutes.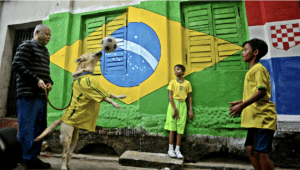 Indian Football fan, Arkadeep Dey shows his room "decked out" in football gear for the East Bengal Football teamIndian Football fan, Arkadeep Dey shows his room "decked out" in football gear for the East Bengal Football team
Ranjit Bajaj, who was the chairman of India's Supreme Court-appointed Committee of Administration briefly, was responsible for oversight of daily affairs in the AIFF. Bajaj made note that "it's an open secret that sporting activities are controlled by political parties and their leaders."
Bajaj alleged that the AIFF ban was due to India's Nationalist Congress leader and sports administrator, Praful Patel, and his role in interfering with football administration affairs. However, a newly-elected body is running AIFF from September 2022.

India also faces other challenges in its efforts to reach a higher skill level in world soccer.

"We don't have the model to take football to the world level," said Indian professional soccer coach Mehtab Hossain.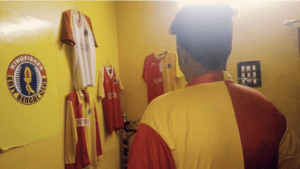 "People say that we are working but we aren't. Had it been so, we would have developed like the rest of the other Asian countries like Japan, South Korea and Iran."
The former international player acknowledged the team's successes in their region, but said the program should strive for greater achievements. "While the team is the best among the South Asian Football Federation countries that also include Pakistan, Sri Lanka, Nepal, Bhutan, Maldives and Bangladesh, we have to keep in mind how we qualify for Asian championships," Hossain said. "Our minds have become stagnant."
Hossain said one way to propel India's national team to more success is to invest more in the sport in schools, universities and other institutions. Spain found a lot of success investing in youth to produce home-grown talent, according to an article in Bleacher Report. 
Hossain said India, which will soon be the most populous on the planet, undoubtedly has a deep pool of talented players.

But Hossain questioned his country's commitment to developing the next generation of soccer players.

"No, we are not encouraging and motivating our young players," he said.

"The young and emerging players were always looked down upon by the senior established players. The old established senior players were surrounded by the air of ego. I too have suffered the same thing. So this generation should try to set a good example for the coming generation and should encourage them more."

Dey also emphasized the importance of being able to find high level players in the many villages across India.

"We need to have a strong scouting team as well, because there are a lot of talents in the villages and they should be spotted," said Dey.

Both countries still have work to do in translating their deep enthusiasm for the sport into stronger teams. In the meantime, Dey hopes for smaller gains.

"I'm not dreaming of India going for the World Cup now," Dey said. "I'm only hoping for India to make it to the top four in the Asia Cup and then steadily cruise into the World Cup qualifier."
(This report is a cross-country collaboration between the students from the Business Journalism department of the University of Missouri, USA and young journalists from India. The project is overseen by Laura Ungar, reporter on the global health and science team at The Associated Press, and journalist Sujoy Dhar, founder of the Indian news agency India Blooms News Service. Both are adjunct journalism instructors at University of Missouri)
IBNS-TWF