By Uma Purkayastha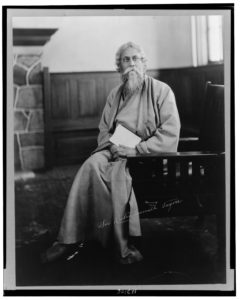 It was in April 1923, over a hundred years ago, that Rabindranath Tagore, fatigued by the sweltering heat in Bengal, decided to take refuge in Shillong. He had experienced the pleasant climate of Shillong during his first visit 1919; which found expression in his poem "Shillong-er Chithi" (Letter from Shillong):
"When the burning heat of scorching summer
Couldn't be ebbed by cold-drinks and fan-air,
Exhausted, I rushed to the Shillong hill,
To be soothed with a pleasant chill!" …..
(Translated by the author)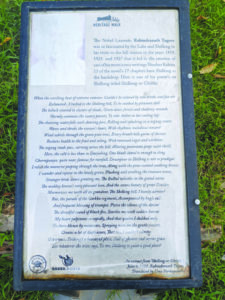 Tagore and his companions reached Shillong on 30th April, 1923. The poet was accompanied by his son Rathindranath and his family, his daughter Mira Devi, her daughter, and Ranu, a young friend of Tagore. Besides, an American philanthropist woman Miss. Gretchen Green also joined the group.
Tagore and his fellow travellers were lodged at 'Jitbhumi' in Rilbong. Miss. Green was lodged separately in a house adjacent to 'Jitbhumi'.
The first owner of 'Jitbhumi' now a heritage property was Dr. Debendranath Chatterjee, husband of Tagore's niece, Manisha Devi. However, in course of time, the ownership changed.
The meaning of 'Jitbhumi' is, 'conquered land'. It is proverbially known that the house 'Jitbhumi' was named by Rabindranath Tagore himself. The backdrop behind the naming of the house is that the house was a litigated property, won by Debendranath after a long legal fight; and on his request Tagore named the house, 'Jitbhumi'.
Dr. Debendranath passed away in Jitbhumi during 1916, but Manisha Devi continued her stay while conducting a music school for children.
Rabindranath, during his stay at 'Jitbhumi', composed the poem 'Shillong-er-Chithi', a letter written in rhymes where the description of Shillong is vivid, lively and picturesque. On 9th June 1923, he composed 'Shillong-er- Chithi' where he expressed:
The hillocks, covered with cluster of clouds,
Green dense forests and shadowy mounds 
Warmly calls the weary passers,
'Come to my lap, and be relaxed'.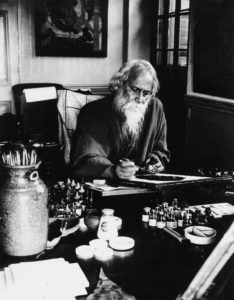 [Translated by the author]
The natural beauty of the lush surroundings of Jitbhumi and the tranquillity and calmness of the place exhilarated Tagore to compose a number of poems, songs and dramas. The drama 'Raktakarabi' (The Red Oleanders) is one of his most famous dramatic creations as a playwright.
It was on 24th May 1923, while Dr. Bidhan Chandra Roy, the then Chief Minister of West Bengal, was at his Kench's Trace residence in Shillong, and Rabindranath was lodged at 'Jitbhumi'; a very extraordinary incident took place that had touched Tagore immensely!
Dr. Satish Chandra Roy, I.E.S. (Indian Education Service) then Inspector of Schools, Assam, and a great admirer of Tagore came to Shillong from Sylhet to meet him. He first met Dr. Biddhan Roy and proposed the idea of celebrating Tagore's 62nd birth anniversary at his residence. Dr. Roy welcomed the plan wholeheartedly, and all arrangements were made in a jiffy. Satish Roy rushed to 'Jitbhumi' to request Tagore to accompany him to Dr. Bidhan Roy's house. Rabindranath got ready, and reached Dr. Roy's house (currently Meghalaya Circuit House).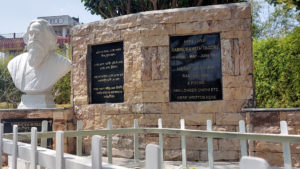 Dr. Bidhan Roy welcomed the poet very warmly and ushered him into his house. Rabindranath was left spellbound after stepping into the hall. The grand celebration of Rabindra birth anniversary was arranged in a splendid way!
The main architect of the surprising birthday celebration was Satish Chandra Roy. There was a dignified gathering, with some respectable guests, children and a few neighbours. Satish Roy read out a meaningful citation, paying tributes to the great poet while wishing him a long creative life. Rabindranath was emotionally touched by the humble gesture of young Satish Chandra and said that he had never imagined even in his wildest dreams to receive such a warm reception in the hillocks of Shillong.
The glorious celebration of 'Rabindra Jayanti' in 1923 in the very presence of Tagore himself, was an eventful moment, a rare incident which will be engraved in the history of Shillong.
The house 'Jitbhumi' still stands in the heart of the city bearing the memory of the great poet Rabindranath Tagore. Since 1914, the ownership of the heritage bungalow has changed over the years; but the name of the house 'Jitbhumi' remains intact; and the memorabilia of Tagore's stay is well preserved till date by the owners. The present owners of 'Jitbhumi' Dr. Charis Budnah and Dr. Debashis Das placed a bust statue of Tagore at the entrance of the house to mark his birth anniversary in 2021.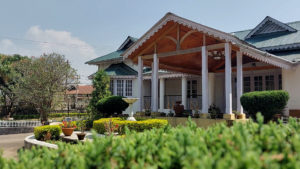 Though Jitbhumi is a residential property, a plaque at the entrance of the house carries an engraving which says:
Here Lived RABINDRANATH TAGORE
In April – May- June 1923,
His famous drama 'Raktakarabi' and
poems 'Shillong-er- Chitti', 
were written here.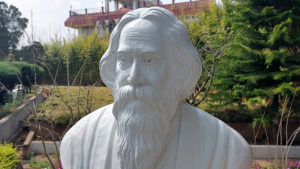 Another plaque exists with a citation of Tagore in Bengali. These plaques were installed by the then Government of Assam in 1961, the centenary year of 'Rabindra Jayanti'.
Every year, on Tagore's Birth Anniversary, the members of Rilbong Sports and Cultural Club arrange a community celebration of the day in 'Jitbhumi' and 'Brookside' Complex Rilbong, (where Tagore first resided in Shillong) paying tributes to the great master through flower obeisance and cultural performances.
Rabindranath Tagore made Shillong immortal through his writings and descriptions of the hill resort. The following lines encapsulate that essence: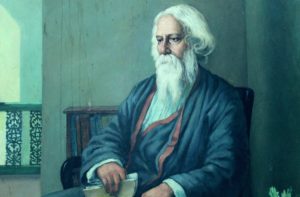 'The mid-day breeze's very pleasant here
And serene beauty of great Deodar,
Mesmerise me with full grandeur
The Shillong Hill, I keenly admire!
'Shillong-er Chithi'
      [Translated by the author]
Every year the iconic 'Jitbhumi' which is identified as Rabindra Memorial attracts innumerable tourists from India and abroad to visit the structure.