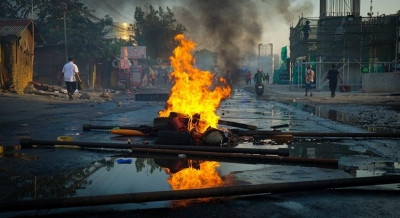 Shillong, May 14: Violent clashes were witnessed in Akola of Maharashtra over a controversial post regarding a religious leader on social media.
Two groups pelted stones on each other, which prompted the police to impose prohibitory orders in accordance with Section 144 of the CrPc.
At least eight persons, including two police officers, were injured during the clashes, and a large police presence had to be sent into the area to reestablish peace and order, according to the police. The Old City police station neighbourhood of Akola is where the fights started.
Late on Saturday night, a crowd gathered outside the Akola police station after an 'offensive' Instagram post regarding a holy figure.
Two groups got into a fight, throwing stones at each other and torching vehicles in the process. Additionally, three different police station regions were subject to Section 144. According to Akola SP Sandeep Ghuge, eight individuals have been hurt, he informed.
The mob got into frenzy and started smashing cars, throwing rocks at them, and lighting them on fire. The police lodged a case, but the situation quickly descended into violence. Around 7-8 vehicles were destroyed by the mob, and the police had to use force to regain control of the situation.