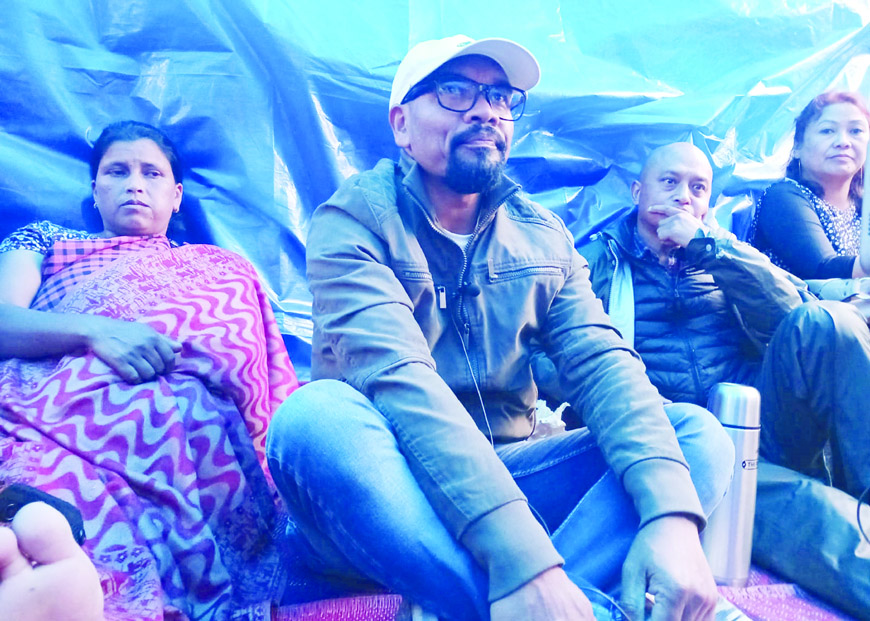 SHILLONG: Meghalaya a·dokni reservation policy-ko gital dake nipiltaichina dabianiko sorkari knachakkujaengani gimin Mongolbar sal dipet, Voice of the People's Party (VPP)-ni dilgiparang, Shillong songjinmani Main Secretariat mikkango okumu chake jingjengatna a·bachengataha aro uamangni dabianiko chu·sokatkujaskal okumu chake jingjengataniko dontongjawa ine parakataha.
Okumu chake jingjengataniko a·bachengatani bidingo kobor ra·timgiparangna talataniko on·angengon, "Chingni dabianiko sorkari knachakjaengani gimin chinga sorkarini kosako jingjengatna tik ka·manaha aro uandaken chingni jingjengataniko da·al salni bako chinga okumu chake jingjengatanichi a·bachengataha. A·dokni reservation policy-ko gital dake nipiltaichina chinga sorkari dabienga indiba chingni dabianiko sorkari chu·sokatna gisik nangjaengani gimin chinga okumu chake jingjengatna draatako man·aha. Ia dabianirangko chu·sokate on·kujaskal chinga chingni okumu chake jingjengataniko dontongkujawa," ine Mongolbar salo, VPP-ni president Ardent Miller Basaiawmoit parakataha.
Re·anggipa Sukrobar salosan, Conrad K Sangma-ni dilanichi a·dok sorkari, pilak political dolrangko okamchimongenba, roster system-ko ra·gatani bidingo agan-mesoke on·angahachim indiba sorkarini kamo kusi ong·jae VPP dolde ong·kate katskaahachim.
Iana skang a·dok sorkari, MDA-o bakrimenggipa dolrangnaba roster system-ko ra·gatani bidingo agan-mesoke on·angahachim.
A·dok sorkarini ra·gatna miksongenggipa roster system-ko jegalatskaengon, a·dokni reservation policy-ko gital dake nipiltaijaskalde roster system-ko ra·gatanio maming namgni dongjawa ine VPP-ni president parakatskaaha.
"1972 bilsio tarigipa reservation policy-ni a·selan chadamberang kamgri ong·e dongna nangtokenga aro roster system-ko ra·gatahaode ia obostako namjabatatgnok," ine Basaiawmoit aganaha.
"Uni gimin pilaknan apsan bak rengsi ong·nagipa reservation policy-kosa chingna nangenga. India a·song gimikon mandeni jelbra jelsuanio pangchakesa reservation policy-ko ja·rikenga. Reservation policy-ko gital dake nipilataiani gri roster system-ko ra·gataniara gitcham niamkon ja·rikpilani ong·aigen," ineba ua aganaha.