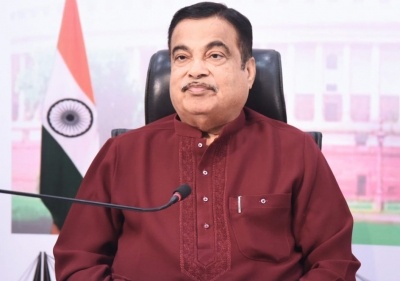 New Delhi, May 26 : A team from the National Investigation Agency (NIA) on Thursday visited the Nagpur office of Union minister Nitin Gadkari in connection with the case of a threat call which was allegedly made by a murder convict to the minister's office.
However, as of now, the NIA has not issued any official statement in this connection.
Earlier on May 9, an NIA team had visited Gadkari's office in Nagpur. Sources said that Jayesh Pujari, a murder convict, was behind the threat call. He was subsequently arrested from the Belgavi jail in Karnataka. The Nagpur Police had lodged a case under the Unlawful Activities (Prevention) Act (UAPA) against him.
Sensing the gravity of the matter, the NIA has also launched a probe into the case.
A call was received on the landline number at the official residence of Gadkari in Nagpur around two weeks back. A staff of Gadkari, who answered the call, was threatened by the caller. The caller said he wanted to speak to Gadkari and wanted to threaten him.
Earlier on January 14, Pujari had made a call to Gadkari's office and demanded Rs 100 crore. Pujari informed the office personnel that he was working for underworld don Dawood Ibrahim. Gadkari's office received a second call on March 21, during which the caller demanded Rs 10 crore. Now, in May, he made a third call to Gadkari's office.
Gadkari's Delhi office had also received a threat call and consequently Delhi Police were informed. The police told IANS that they have initiated a probe. The police didn't divulge more information and only said that the case is still under investigation.(IANS)