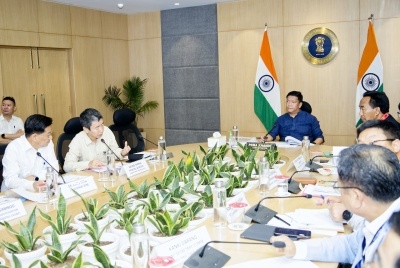 Itanagar, May 25 : An ambitious 1,748-km-long Frontier Highway would be constructed linking West Kameng district in western Arunachal Pradesh and with Changlang district in the eastern region of the state, bordering China, Myanmar and Bhutan.
A top engineer of the Highways (PWD) department of Arunachal Pradesh government on Thursday said that the 1,811-km-long Trans Arunachal Highway is near completion, and the focus now is on the Frontier Highway and inter-connectivity corridor projects, which were recently approved by the Centre.
He said that the Frontier Highway is proposed to begin from Bomdila in West Kameng (bordering China and Bhutan) and end at Vijaynagar in Changlang (bordering Myanmar), covering a distance of 1,748 km.
The highway would be constructed by the National Highways and Infrastructure Development Corporation under the Ministry of Road Transport and Highways (MRTH), and Border Road Organisation besides the state PWD.
The MRTH has identified six inter-connectivity corridors to connect National Highway-15 in Assam with the Trans Arunachal Highway (NH-13) and the proposed Frontier Highway (NH-913).
Chief Minister Pema Khandu on Thursday took a detailed review on the status of road projects being executed by the state departments of Highways, Public Works, Rural Works and Urban Development in the state.
While emphasising on quality and timely completion of all under progress road projects, Khandu urged the engineers, especially the Chief Engineers of all zones and divisions, to check the practice of compiling Detailed Project Reports (DPRs) with exuberant budget estimates.
He pointed out that most of the DPRs prepared by departmental engineers always tend to be on the higher side of the actual cost of the project.
He also called upon them to keep a check on any allegations or complaints of corruption involving their officers and insisted on 'zero tolerance' towards any kind of corrupt practices.
He suggested that relevant technology for road construction – as per the geographical and topographical conditions of the place – must be adopted to maintain the quality and longevity of the project and check cost escalation during construction.
Khandu also advised the secretaries and particularly the chief engineers to physically visit the work-in-progress sites once a month.
He said this will not only keep the pace of work in tune and ensure quality, but also boost the morale of junior level officers and staff working on the ground.(IANS)