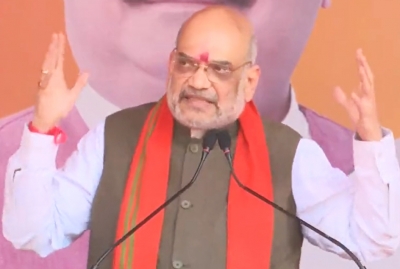 Guwahati, May 25 : Union Home Minister Amit Shah on Thursday took a jibe at the opposition parties for their decision to boycott the inauguration of the new Parliament House by Prime Minister Narendra Modi on May 28, terming their stand on this issue as an insult to people's mandate.
"Prime Minister Narendra Modi is going to dedicate the newly-constructed Parliament building to the nation on May 28, but the opposition is playing petty politics by boycotting the event," Shah said here.
He claimed that the people of the entire country wanted that a new temple of democracy is built for the creation of a 'New India', where discussions and deliberations on making democracy stronger should take place.
"The petty politics by the opposition parties is an insult to the people's mandate, who made Narendra Modi the Prime Minister twice with full majority," Shah stated.
The Home Minister earlier distributed appointment letters to 44,703 candidates who have secured government jobs in various departments.
Shah claimed that earlier, the youth of Assam used to have weapons in their hands while there were shutdowns and curfews for months, but Narendra Modi has heralded a new era of development in the state.
"There were many hurdles in making government recruitments. There were rules under which recruitment could not be done with transparency, there was no board for recruitment," he claimed, adding, "But Narendra Modi has arranged for the children of the poor to get jobs, while the earlier governments gave jobs only to their own people. Now systems have been put in place so that the talented youth from any region, caste or class can get government jobs."
He added, "Providing government jobs to the youth on the basis of merit marks the end of nepotism. The Prime Minister has started a new and transparent system in which deserving people are getting jobs."
In the run-up to the 2021 Assembly elections, Himanta Biswa Sarma had promised that if the BJP returns to power in the state, one lakh youth will be given government jobs.
Shah said, "The Assam government has given government jobs to about 86,000 youth in two years, and by giving 14,000 more jobs in the next few months, it will fulfil its promise of providing one lakh government jobs."(IANS)