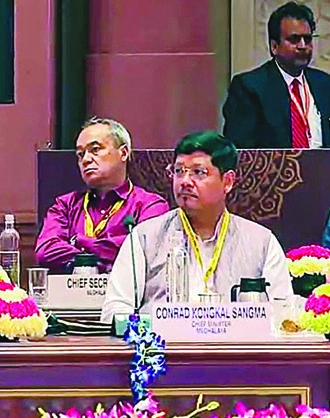 NEW DELHI, May 27: Chief Minister Conrad Sangma on Saturday sought support from the Centre in making Meghalaya a ten billion dollar economy and one of the top 10 states of India.
Addressing the 8th Governing Council meeting of the NITI Aayog, Conrad also suggested that landlocked hill states should be treated on a different footing because of peculiar geography and remoteness.
Proposing that the apex planning body should come out with different zone-wise planning for the whole country, Conrad said, "Each state is different from the other and has its own peculiar problems and prospects."
During the meeting, Prime Minister Narendra Modi, on the other hand, urged the states to take "financially prudent decisions' and utilise the first three months of the Budget (April to June) in carrying out maximum work.
"This will help the states, especially the hill states where the rainy season starts quite early and lasts long," Modi said.
The prime minister also said that the Centre, states and union territories need to work as a team and develop a long-term common vision to fulfil the aspirations of people to make India a developed country by 2047, when the country completes 100 years of Independence.
Later, briefing media persons about the deliberations of the meeting, NITI Aayog Chief Executive Officer BVR Subrahmanyam said that chief ministers and Lieutenant Governors of 19 states and six union territories attended the meeting. The latest meeting of the Governing Council of the Prime Minister-led NITI Aayog was given a miss by as many as 11 chief ministers for various reasons.
As many as eight items were on the agenda for the meeting — focus on making India a developed nation by 2047; thrust on micro, small and medium enterprises; infrastructure and investments; minimising compliances; empowering women; health and nutrition; skill development; and Gati Shakti for area development and social infrastructure.
Informing that the prime minister gave an overarching view, during the meeting, Subrahmanyam commented on the NITI Aayog's plans for the future and said it had launched a state-support mission.
"We will be creating NITI-type institutions… Our goal is that all the 35 states and union territories in the country should have a NITI-type institution," Subrahmanyam said.
In fact, Conrad had earlier said that going by the galloping speed of development, Meghalaya should have a state knowledge institution, viz. Meghalaya Institution for Transformation and Innovation (MITI).
A knowledge institution and innovation centre helps industry leaders develop a deeper understanding of business and technology trends through compelling thought leadership, Conrad had said.