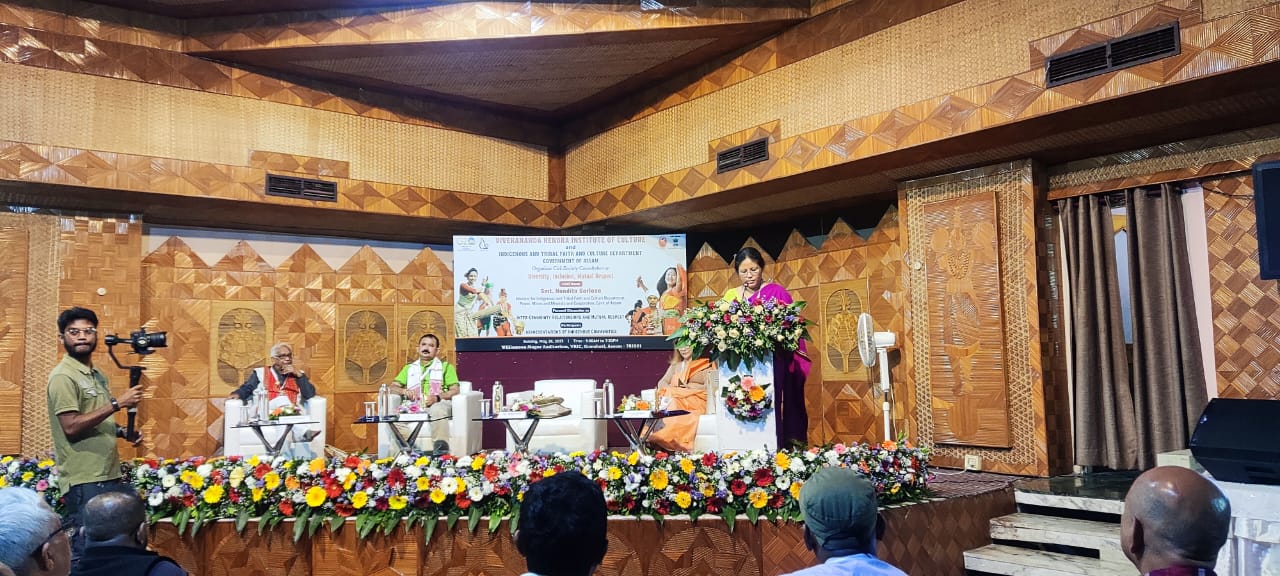 Guwahati, May 28: Assam's Minister for Indigenous and Tribal Faith and Culture, Nandita Garlosa today said the state government has a mandate for consolidating the  inter-community relationship and  mutual respect among communities in a participatory mode through consultation with the civil society.
Inaugurating a civil society consultation on "Diversity, Inclusion, Mutual Respect" organized under the joint aegis of Indigenous and Tribal Faith and Culture Department of Assam and Vivekananda Kendra Institute of Culture (VKIC) with Aaranyak (www.aaranyak.org) as knowledge partner, the minister said today's  civil society consultation spread over three different sessions – Culture and Nature; Culture and Society; group discussions and recommendation – was expected to help the government prepare the roadmap for bolstering inter-community respects while preserving the cultural diversity of an inclusive society.
Addressing the inaugural session, internationally acclaimed conservation scientist, Secretary General-cum CEO of Aaranyak Dr Bibhab Kumar Talukdar said, "Directly or indirectly culture, society and community are related with nature. Though Aaranyak, a research-based and community-oriented biodiversity conservation organization, has treaded paths in multi directions during its 34 years long journey and the title of today's consultation event is also related to Aaranyak's work. We are keen to assist this initiative within our resources."
Dr Talukdar said, "Nature and biodiversity conservation without preservation of traditional culture is not complete given that traditional culture is intricately related with conservation of natural resources."
"Aaranyak will be happy to extend as much cooperation as it can in respect of study and documentation of intricate relations between traditional culture and natural resources/ biodiversity conservation as it has been all along working in consultation and coordination with indigenous communities across natural landscapes like Kaziranga and Manas in the region," said Dr Jayanta Kumar Sarma, a consultant in Aaranyak and a Member of Research Advisory Council of VKIC.
Anchoring the consultation on 'Culture and Nature', Dr Sarma as Aaranyak has been working for biodiversity conservation and natural resources management in Kaziranga – Karbi Anglong and Dima Hasao landscapes in coordination, consultation and with cooperation from indigenous communities, it would be keen to help the initiative to bolster synergy between culture and nature through scientific study and documentation of the nature-culture relationship.