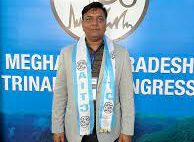 JOWAI, May 31: The Jaintia Coordination Committee for Reservation Policy (JCCRP), comprising Synjuk Waheh Shnong Ri Jaintia, Jaintia Students' Union, Jaintia Youth Federation, Jaintia Students Movement, and East Jaintia National Council, staged a sit-in near the statue of U Kiang Nangbah on the premises of the East Jaintia Hills Deputy Commissioner's office to push their demand forward for a review of the job reservation policy.
At the same time, they also burnt effigies and posters of TMC's Rajabala MLA, Mizanur Rahman Kazi, in protest against his demand for 50% quota for the unreserved category in the state.
Most of the speakers condemned the MDA 2.0 Government led by NPP and demanded changes in the reservation policy to protect the future generation.
They also slammed the seven MLAs from Jaintia Hills for remaining silent on the burning issue.
The JCCRP said it will organise another demonstration in Amlarem on Friday.