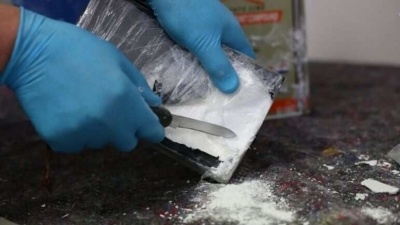 Shillong, September 4: On Sunday evening, the West Bengal police seized a significant quantity of narcotics in Dalkhola, North Dinajpur district of West Bengal. The narcotics were concealed in a vehicle bearing a Central Industrial Security Force (CISF) sticker.
As per IANS, acting on information from their sources, officers from Dalkhola Police Station intercepted a vehicle displaying an "On Duty- CISF" sticker and confiscated 234 kilograms of marijuana. A police official involved in the operation estimated the market value of the seized narcotics to be several lakhs of Rupees.
"The seizure occurred at Purnia crossing in Dalkhola, along National Highway 31. We stopped the container vehicle with the CISF sticker, which was en route from Agartala. After halting the vehicle, we conducted a thorough search and discovered the marijuana concealed in various cartons inside the vehicle," explained the police official.
Additional Police Superintendent of Dalkhola, Soumyananda Sarkar, stated that the search operation was conducted in the presence of a magistrate. "Through questioning the vehicle's driver, we have obtained valuable leads regarding this illegal operation. We are currently conducting a comprehensive investigation to identify and apprehend the masterminds behind this racket," he added.