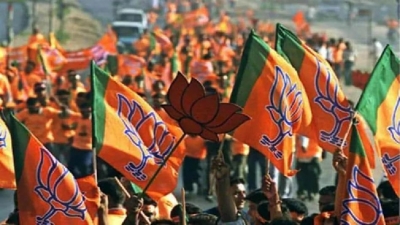 Shillong, September 19: Lingayat mutt seer Abhinava Halasri who is absconding even 10 days after the arrest of prime accused Chaitra Kundapura has raised concerns about the handling of the BJP MLA ticket scam by the special wing CCB police.
IANS reported that as per sources, the seer is seeking interim bail from the court, and any delay in his arrest could increase his chances of obtaining bail.
Local authorities insist they are making every effort to apprehend the seer. Kundapura, while in custody, hinted that if the seer is arrested, it could reveal the involvement of prominent figures in the scam, further questioning the special wing's effectiveness.
Medical reports and tests have indicated that Kundapura does not display symptoms of epilepsy, with doctors labeling the froth observed during her collapse as "fake." Her actions, such as simulating a medical emergency with a bar of soap, have come into question.
Concerns are also raised about Kundapura's extended hospital stay of almost four days, despite medical reports suggesting her normal condition.
Meanwhile, one of the accused, Channa Naik, was taken into custody only after he appeared before the media.
Kundapura faces charges of cheating industrialist and BJP leader Govind Babu Poojari out of Rs 5 crore, promising him an MLA ticket for the Assembly elections. Police have recovered Rs 40 lakh in cash, fixed deposits of Rs 1.1 crore, an SUV, and gold ornaments worth over Rs 23 lakh, allegedly linked to Kundapura. Investigations into the matter continue.