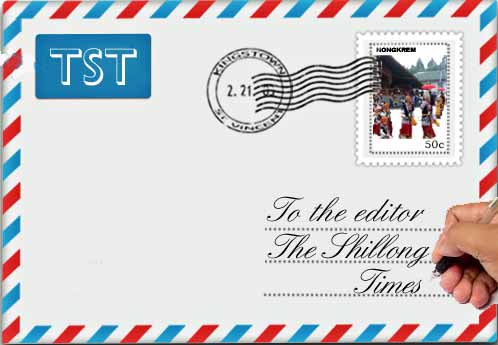 Odds are stacked against ST candidates
Editor,
The Central Agricultural University (CAU) headquartered at Imphal, Manipur is a prestigious educational hub for thousands of students across the country for pursuing degrees in Agriculture and allied sciences. It has branches spread across the North East. Recently, this Institute  advertised the recruitment in various teaching posts for a total of 155 vacancies in various disciplines. However, this is where all hopes for Scheduled Tribe candidates, possessing PhD degrees, are dashed to the ground. In a ridiculous turn of events only a mere 5% vacancy out of a total 155 is reserved for ST candidates, thereby leaving many belonging to this category in deep dilemma. It is a known fact that nabbing a seat under Unreserved Category (UR) will be a herculean task due to the disappointing selections of yester years. Even in this 5% there is little to no vacancies in Assistant Professor Posts, with only one vacancy each for ST in agriculture, fisheries and veterinary sciences. Just a reminder that this is the same Institute where in its last recruitment in 2017, provided only a laughable 3% vacancy to STs. All the states where CAU is spread out have a dominant ST population but why is there still no effort made by this Institute to include the local well qualified tribals for teaching jobs? Is it because the management of this Institute, sitting in Imphal, don't think that STs are competent enough? If an opportunity is never provided for STs, then can we ever hope to see great tribal scientists emerging from this region? Lastly, this is an urgent plea to our representatives in the government to take note of this matter so that the ST community can have a better representation in this Institute.
Yours etc.,
Baiarbor Nongbri Ph.D., Scholar,
CPGS, Central Agricultural University,
Umiam, Meghalaya
Water crisis looking large
Editor,
Reading "Day Zero looms large" by Dr Saraswati (ST June 13, 2019)is scary and nightmarish. We now know that India is the highest user of ground water having used up 25% of the total ground water. What percentage of that 25% is being used by corporates like Coca Cola, Pepsi, Bisleri etc., is a question to be answered by the Government. Nalse-Jal Scheme to provide piped drinking water has proved to be a false, unachievable election stunt. 100 million people will run out of water by 2020. At present water tankers in Maharashtra are earning not less than Rs 9 crore a day and children are seen drinking water from wells, full of mud. Having thousands of kilometers of coastlines with nuclear power, makes desalination a distant dream. The Chernobyl disaster and disposal of nuclear waste is too great a risk for a glass of drinking water. Saddest is when the writer laments that experts and engineers silence the voice of people affected. On June 13, the BBC news bar read, 'Australia approves the most controversial coal project.' This project belongs to Adani a businessman and close ally of the BJP, hence our parliamentarians thumped their desks in approval.
A few metres away were children with placards who are fighting a losing battle. It seems UN Goal 6 is helpless in this regard. One person carried a poster which read, "If you want mining, do not vote Labour". Thus when politicians with greed, coal lobbyists in Australia and sadly in our State too and timber lobbies in the Amazon slaughter forest cover right now at the rate of 160 football grounds (mind you this is world cup sized football grounds)per minute, even while armchair environmentalists who fear both hydel and nuclear projects and who wept painfully when a man eater was shot dead, all work in tandem to speed up the reign of Ground Zero then it is all over. Very sad indeed!
Yours etc.,
Khyriem
Via email.
A vexed issue
Editor,
The Sikh community have made Shillong, or in a broader sense, our land i.e. 'Ri Khasi' as their home. No doubt this community has contributed in different ways in the evolution of the Khasi society which many are not aware of. But times have changed and so have people with the onset of modernization. The best solution for all concerned and in the overall interests of the Sikh community is for them to be relocated elsewhere since the centre of Iewduh (Them Mawlong) is a slum and living conditions are such that there is no scope for improvement. Taking into consideration the lack of parking space and also access during any emergency, the only way out is to free the present space. There must not be any hardening of stances or posturing but a common effort must be made, keeping in mind a better future rather than regret the opportunity.
Yours etc…
Dominic S. Wankhar,
Via email