Eight AK-56 rifles found hidden in Gypsy seat; NIA team arrives to take over probe Huge arms haul at Lad Umroi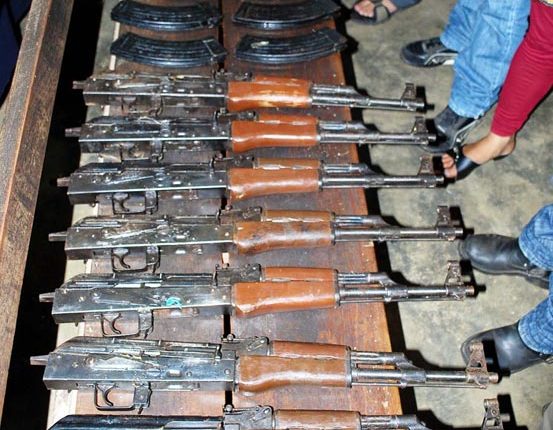 SHILLONG: In one of the biggest arms haul in the history of the State, Meghalaya Police arrested three Mizoram-based smugglers and recovered eight disassembled AK-56 rifles at Lad Umroi in Ri-Bhoi district on Saturday night. The arms were supposed to be supplied to a militant group in Karbi Anglong in Assam.
Acting on a tip off, the Ri-Bhoi police intercepted a white Maruti Gypsy with a Mizoram number plate (MZ-01 D5272) on NH-40, around 15 kilometres from the State capital, leading to the huge breakthrough.
The sophisticated arms hidden under a specially-made seat in the Gypsy were being taken to Mawlasnai where it would have been handed over to the Karbi Anglong-based militants.
All the eight AK-56 rifles were disassembled to fit them into the secret compartment, which also had cushions in order to prevent sound from the jerking arms during the journey.
The three arms smugglers identified as CL Hlira (47), Lalchawisanga Zahau (45) and Lallawmzuala (34), all from Mizoram, had brought the arms from Piau village in Mizoram bordering Myanmar, police sources said.
When contacted, Ri-Bhoi Superintendent of Police Claudia Lyngwa confirmed that the huge cache of arms was meant for an Assam-based militant group operating in Karbi Anglong area.
Police sources pointed the needle of suspicion towards ULFA, NDFB and Karbi People's Liberation Tigers (KPLT) to be the suspected would-be receivers of the arms.
Earlier, Umiam police got the specific input that a vehicle with Mizoram number plate carrying huge cache of arms was on the way.
The police did not find any ammunition or document during the recovery which might have confirmed the destination of the arms.
Meanwhile, a team of the National Investigating Agency (NIA) arrived to take over the investigation into the sensational arms recovery.
The team, which was camping in Guwahati, was present during the media briefing by the Officer-in-Charge of Umiam police station about the incident on Sunday.
Media irked: An official of the NIA, who also briefed the media about the incident at Umiam police station draw media persons' ire by refusing to reveal his complete name.
The NIA official identified himself as "Anil" and refused to tell his surname, saying, "Nowadays police officers need not give their surnames."
The official was also seen repeatedly interrupting the Officer-in-Charge of Umiam police station during the media briefing.