Grassroot football centre under Mission Football launched in Tura
United Sikkim defeat Garo Hills XI 1-0 goals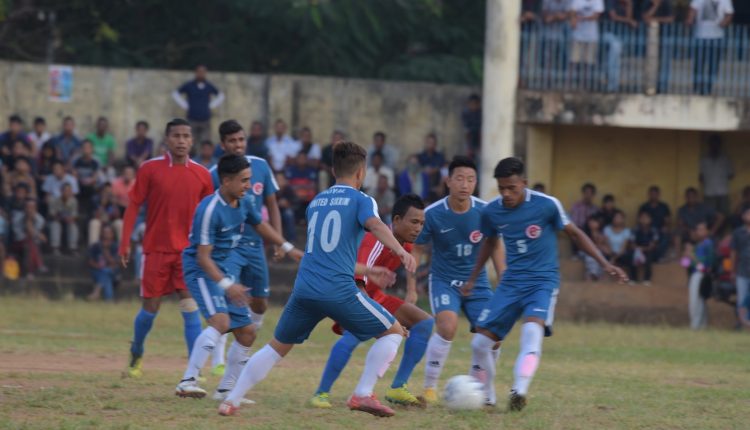 TURA: The first grassroot football centre in Garo Hills was launched at the Dikki Bandi stadium in Tura on Friday afternoon as part of the state's Mission Football.
Salmanpara legislator and government chief whip Winnerson D Sangma inaugurated the centre which hosted a friendly match between Bhaichung Bhutia's Royal Sikkum United Football Club and Garo Hills XI teams.
The match was won by Royal Sikkim United FC who defeated Garo Hills XI with 1-0 goals.
The match got off to an electrifying start with Sanjay Chettri of Royal Sikkim netting the goal within seven minutes of the first half. The remaining part of the game witnessed a tight contest as both teams displayed their skills with the ball throwing long shots, corner kicks and dribbling.
The team from Garo Hills XI did come close to equalising but narrowly missed out during the dying minutes of the game while a crowd of over 6000 spectators egged both teams on.
The match was organised to help promote Bhaichung Bhutia Football School – a William Initiative.
"Government is committed to take football to its new height. Partnership with likeminded organisation will go a long way in promoting football in the state of Meghalaya", said MLA Winnerson D. Sangma, while delivering the inaugural address.
Director of Sports and Youth Affairs Matsiewdor War Nongbri said, "The grassroot football centre will provide an opportunity for young talents a platform by way of which they can leverage their skills".
Director of Bhaichung Bhutia Football School – a William Initiative Gino A. Sangma stated that it was a privilege for them that Bhutia is eyeing to promote football in Garo Hills.
"Our partnership with Bhutia's academy is aimed at taking football to a new level. We are confident that Bhutia will continue to support us and enable us to create a conducive atmosphere for football, so that our talents get an opportunity to take up football as a career," said Gino Sangma.
A message from Bhutia, who was not able to attend Friday's match due to his professional engagement, was read out. In it Bhutia said, "Garo Hills has potential talents for football and I am willing to support and partner at every level at all times. I extend my best wishes to both the teams".
Captain of United Sikkim Mayal Dok Lepcha said, "Without astro turf it is difficult to play but our experience playing at Tura was worth it. We love the moment and the support which was extend to us by the host team, organisers and the crowd of Tura".
Captain of Garo Hills XI Sengsu Momin was excited that they got an opportunity to play with professional team. "It was a golden opportunity for us to play with Sikkim United. Playing with such team is an encouragement for us, we got an opportunity to learn and share our experience".