Kids today live in a whole new world where old-time fun in school & leisure have no place
It is just not the right thing to do at this age," Amrita Paul had barked at her 14-year-old son when he earnestly requested for a smart phone. "A necessity," the boy had said in his argument. Paul had already spent over Rs 5,000 on school bag, uniform sets and shoes in the beginning of the academic session. After days of debate, altercation and emotional blackmailing, the frustrated mother finally yielded to the son's demand.
Two months later, she narrated the story to the correspondent and rued, "I could not believe that mobile phone can be on the list of items of a 14-year-old in the beginning of the academic session."
But times are a changing and school-goers are getting smarter thanks to the technological revolution and globalisation. The school-day fun and mischief have also changed in many ways. Walking with friends to school and back home, sharing notes, playing in the neighbourhood ground, fighting over marbles and a game of seven stones, and reading story books clandestinely in class — all these were part of childhood back then. Today these have been replaced by a lonely ride in a private vehicle, competition, tuitions, computer or mobile phone games and a caged life.
Activist Angela Rangad remembers walking to school with friends. An alumnus of Pine Mount, Rangad says she grew up in Laban and school was nearby. "We would enjoy the rain while walking and reach school all drenched. We would wear chappals and go. After reaching school we wore dry socks and shoes. If we were terribly wet, then sisters would actually loan us boarders' skirts so that we did not sit all wet. Now I don't know why people do not do it," she reminisces.
Mary Mawlong has several stories to tell about her "adventurous walks" from Bishnupur to school in Laitumkhrah with other children. She remembers taking the short route through Lady Hydari Park. "We entered from the gate near Red Cross. There was no entry fee that time and it was really nice to walk through the park. As children, we followed our seniors in the locality and our parents were never apprehensive about that. As we grew up, we would go with friends from the locality and some of them were not even in the same class. We enjoyed it," she says.
Walking was fun though school buses were there. But at times, bus rides could be interesting. It was an opportunity to make new friends and sometimes "love bloomed too in the buses", Rangad quips.
WB Rani, a professor at St Mary's College, recalls how sometimes she and her friends would be late for school and wait outside the gate because the bus would reach late.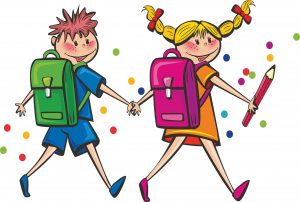 "The biggest loss for this generation is the freedom and security. I would never allow my daughter to walk to school because it is not safe anymore. Also, the traffic on roads in today's Shillong is too much and it is difficult for children to walk on the road by themselves," says Mawlong, an alumnus of St Mary's Higher Secondary School. Her daughter studies in the same school.
Another practice that has almost ceased to exist is sharing books. Both Mawlong and Rangad say earlier, children would borrow books from senior students. "It was natural to recycle books. Now it does not happen. I have twin boys and there are always two sets of everything. For two years, I put up Facebook posts that if anyone needed books and blazers of St Edmund's School then they can come and pick them up. But there was no response," Rangad says.
Rani agrees and cites a possible reason for the natural death of the practice. "During our time, if we did not get a new book we would borrow old book from others. But now, syllabus keeps on changing. So it is difficult, for instance, even for the brother to use his elder sister's books," she says.
Henritha Sangma, mother of a Class III student, says expenses have gone up as every year new books and uniforms have to be bought. She also points out that events in schools have changed over the years.
"My daughter studies in my former school. During our times, we would have more of sports events, singing and dancing competitions and things like that. We would also go for picnics. Now, she has fancy dress competitions, drawing competitions, etc," she adds.
The first days of academic sessions were always fun as "there would be no classes", says Rani.
But children today have no respite even on that day as many schools start classes from Day 1. "My son carries all the books, exercise books and home-work copies to school on the first day. When I ask him to lessen the burden, he says his teachers have asked. I feel sad," says Paul as she talks about the fun she had in "free periods" on the first day.
With time, the life of a student has become competitive and stressful in many ways. In some ways, however, it has become easier. Rani says how, "unlike our times, students do not have to write descriptive answers during examinations because they mostly get multiple-choice questions. This way, children are losing the habit of reading and writing… there is less stress on grammar and internet has become the only source of information. But internet can sometimes be wrong. It is my request to students to put more stress on grammar and use dictionary."
Of all the things which today's children miss out on, playtime is the biggest loss. Both Rangad and Rani bemoan the fast pace of life as they remember their school days.
"After coming back from school, we would change, wash up and go out to play. All the children of the neighbourhood would play and for hours. But children have no time now. They come back from school and have to run for other activities or tuitions," says Rangad.
Many things have changed in school-goers' life. It is another childhood they are living where there is little place for innocent entertainment. They are the children of digital age. They are smarter, faster and competitive. At the same time, they are tired, burdened and stressed, both at home and in school. Will these children in their adulthood be able to cry out, "Happy those early days! when I/Shined in my angel infancy"?
~ NM