The streets of India are as much a shelter to hundreds of homeless people as these are to thousands of stray dogs. They live, procreate and die on footpaths and the lucky ones in both species make it to the end of the line. Humans who, by sheer luck, have escaped the humiliation of poverty and homelessness are intimidated by both species living on footpaths. But the fear is more of dogs, for obviously they are of a different species and do not speak our language.
While in rural areas the animal-human co-existence is still healthy, the same cannot be said about cities. One would often see sophisticated parents warning their children against befriending a mongrel by offering food or patting the animal. "It will bite you," many parents tell their children. An expensive breed is instead the coveted choice as those animals are "safe". With respect to caste, creed and breed, one has to admit that every dog is a man's most loyal friend. And yet, many people have misconceptions about strays.
Pradeep Manral, a farmer by profession from Ramnagar in Uttaranchal, takes up his pen to create awareness on mongrels and their behaviour and uses colourful images to especially make children understand the importance and necessity of caring for animals around us.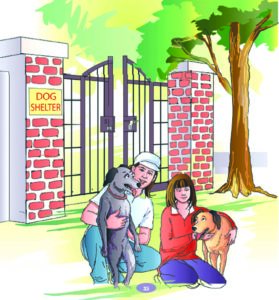 The Street's Dogs is a children's book that tells the story of a five-year-old intelligent and inquisitive girl named Sofia. She has a soft heart and her mother encourages her benevolence. So when she sees an emaciated mother dog with her puppies wandering on the streets for food, she decides to foster the street dogs in the neighbourhood. She is not afraid of the animals and her mother, Anna, a home-maker, does not stop her.
Though Sofia's father Robert, a teacher, feels apprehensive about keeping so many strays at home because of a past experience, he relents to his daughter's compassion and determination. Sofia adopts many dogs and feeds them and has plans for them. She wants them to be trained in various tasks.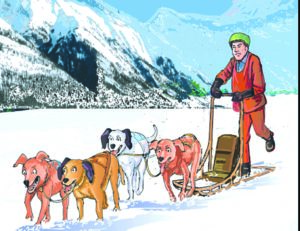 After much trouble, Sofia and her parents find a sincere trainer in Samara, who teaches the street dogs many tricks. The dogs' intelligence and bravery earn them popularity in the city and jobs in the local police department. This way, Sofia and her family find it easy to look after the dogs and give shelter to new ones.
Sofia loses three of her dogs who wander away in search of a more carefree life. But hunger brings them back and they participate in the city's toughest canine competition.
Manral has used simple words and expressions and illustrations to tell young readers about stray dogs, their behaviour and how to befriend them. There are several mistakes in editing but that do not belittle the effort of the author and in no way lessens the value of the book as a tool for creating awareness on mongrels. The book is not only a source of joy for children but also knowledge for adults because many of them have fear of canines, which could be a result of a personal trauma or lack of awareness. It is a quick read and is available in the e-book format.
~ NM
Book: The Street's Dogs; Author: Pradeep Manral; Publisher: Partridge Singapore; Pages: 40