Robin Hibu is the first IPS officer from Arunachal Pradesh and is currently Special Commissioner of Police/Additional Director General of Police, New Delhi. His NGO, Helping Hands is an initiative that works towards making the National Capital, read Delhi, safe for North Eastern people.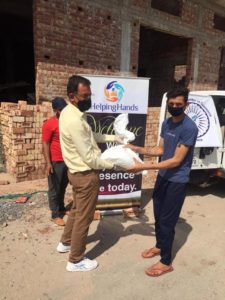 Apart from his job, he is an avid social worker and has won several prestigious awards. Notable among these are the Samajik Ratna Puraskar (2007), Social Work for Minorities Award in 2018 by Delhi Minorities Commission and the Global Mahatma Gandhi Award, 2019.
For services rendered to the country, he has won the President of India Police Medal for Meritorious Service and the President of India Police Medal for Distinguished Services in 2010 and 2017, respectively. He has led UN missions and our very own Robin Hood was awarded the UN Peace Medal for Meritorious Services in Bosnia in 1998. The following year he won the UN Peace Medal for Distinguished Services in Kosovo.
Mr Hibu believes in hard work and leading a disciplined life. When not working, he loves to stay fit and is a Yoga practitioner. His hobbies include reading, badminton and engaging in social service. Two biographies on him are about to be published.
Sunday Shillong caught up with Hibu to get a glimpse of his journey. Here are excerpts of his inspiring story –
SS: Tell us something about your childhood.
RH: Coming from a poor family, my childhood was a daily struggle. I had to complete every work in my village. We did not know about sports and recreation. We had no electricity, water, or even proper roads. There was only one teacher, a Mahatma Gandhi Sevika, a lady from Assam. She taught us from class I-5.
Immediately after school, we would go to the jungle to collect firewood, vegetables and give it to the Gandhi Ashram. I had even worked as a daily wage labourer in the forest and fishery department with private contractors.
SS: How was the journey towards becoming Arunachal Pradesh's first IPS officer?
RH: I was selected at the prestigious Ramakrishna Mission School in Narottamnagar as a first rank holder from the district. However, that did not materialise as the seat was given to another child with political connections.
Then, I was enrolled in Don Bosco School in Assam for a short time. With the Assam Agitation on in full swing, I had to return to my village, and completed school at Mahatma Gandhi Seva Ashram in Hong village and village middle school. I still recall how the roof would leak during the rainy season. Our books used to get wet so we used umbrellas inside the classroom.
I was admitted to the local college in Pasighat. I could not study in New Delhi despite very good results. My dream was to study in St Stephen's College. We had no money. My elder brother was then studying his MBBS in Lucknow. I had to compromise since I was from the Arts Stream. Later on, I graduated with honours in History from Arunachal University and secured the first position.
I faced discrimination from my people too. When my brother chose Medicine, everyone celebrated – they gave him gifts and money. When it was my turn, no one said anything. My father dropped me at the station. This stayed with me for a long time.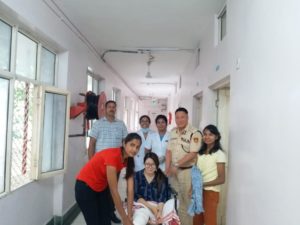 SS: What challenges did you face when you came to New Delhi?
RH: I faced ill treatment, in the form of racism, and was asked questions on my identity. I was humiliated on my way to New Delhi in Brahmaputra Mail. Even though I had a ticket, they still chose to misbehave. I had to stay in Arunachal Bhavan. There too, I faced discrimination.
Something that I hear even now is that I look Chinese or Japanese. Auto drivers and shopkeepers would charge more, thinking that I am not 'Indian'. In Delhi University, people would stare at me in a strange manner and I was made to wait for four hours just for attestation once.
All alone in the city I would go to Jawaharlal Nehru Memorial Library for my research work in JNU. I used to catch the 6:15 am bus and carried a few pieces of bread with jam, an egg and a bottle of Bisleri. I did my dissertation here.
Most of my friends came from affluent families. They would come in bikes and autos. One of the librarians, Mr Sharma, observed how I focused on academics. One day he asked me, "Beta, aap kyun dost logon ke saath bahar jaate nahin hain?" I told him I had no money. He was really moved and told me that I could take any book I wanted to read.
When I became an IPS officer, I was in tears and went to meet him; wanted to thank him and to give him sweets. Unfortunately, he had passed away.
I can go on and on about the hardships I faced. These are a few instances.
SS: Do you have any good memories of the Capital?
RH: Yes, I do. It was in JNU that I felt at home. My teachers were inspiring and I could focus on my academics. My friends were supportive and accepted me like a family member. I did not go back home during that time.
I started preparing for my UPSC exams here. During holidays, I would prepare for my M.Phil. I topped the State Civil Services and went back to Arunachal Pradesh as Extra Assistant Commissioner. Later, I cracked the UPSC exam.
SS: How has the experience of making New Delhi safe for North Eastern people been?
RH: I faced racism myself, so I know what it feels like. I remember my struggle so that it keeps me inspired and humble. The aim is to reach out to the poor who migrate to this city. My NGO, Helping Hands, has been working towards making the city safe for the people of North East India.
Since I did not have any recommendation letter from any politician, my initial stay fuelled the desire to give something back to society.
SS: What, in your opinion, can change the racist mindset of the people of India?
RH: First of all, North East India needs to develop more rapidly. We need more schools, better roads and connectivity. Industry needs to grow. Law and order need to be effective. People from other parts of the country can then come here and get to know us. Similarly, we should also reach out to people from different cultures.
Racism exists because people, in general, don't have much idea about our region. Why treat each other as foreigners when we all belong to the same country?
The other major overhaul has to be in our school textbooks. Our syllabus needs to include North East India. Awareness leads to literacy, which in turn, can be effective in countering racism.
Our police force needs to take immediate action too when cases of racism happen. Massive awareness in the media can lead to a cultural exposure. Let people come together and get to know each other.
The world knows India for its concept of "Unity in Diversity". It needs to be promoted, keeping in mind, practical problems and their solutions. Communication is the key.
SS: What is your NGO, Helping Hands about?
RH: It is a network of philanthropists and IRS/IPS officers from NE India, among others.
It works in four areas – (i) emergency assistance – we reach out to those from North East India who don't have anyone in the Capital. Whether it is discrimination or medical related issues, we offer assistance; (ii) youth empowerment – we give different scholarships to promising students who need support from North East India; (iii) blood bank – to help the poor working in the private sector in collaboration with AIIMS; and (iv) massive awareness campaign to rescue people from being victims to different kinds of crime.
The poor people, in particular, need to know that the National Capital is like Jurassic Park.
We also have a "Know your Freedom Fighters from North East India" initiative. People in New Delhi should also know how our leaders have contributed to the freedom struggle. We have a gallery in Rashtrapati Bhavan too.
Recently, we have opened an incubation centre in the Capital. We give people from NE India training on how to adjust and survive in cities through programmes like, "Sexual Harassment in the Workplace", "Know your City", martial arts, and language courses where we teach them Hindi. We have volunteers who work round the clock.
SS: What would be your message for the people of North-East India?
RH: I believe in the potential of education. Uneducated people are a burden to society.
Who makes a country? We do. Hence, we should not wait for chances; we should grab them. As Bapu said, "Be the change you want to see the change in society." The youth has so much to offer and they should help each other to reach that potential and become healthy ambassadors of their cultures and states.
Youth should educate themselves on the various Government schemes, stay alert and be a part of development. We all must do our bit in giving back to our society. That is the mark of a good citizen.