Humans United for Animals and Nature, an NGO dedicated to caring for stray, abandoned and injured animals, celebrates a year of its existence.
Lockdown saw some people kindling their entrepreneurial spirit. One such venture by friends Samujjal Dey and Farooque Zain Nongrum is HUFAN, short for Humans United for Animals and Nature, an NGO formed in 2020 with the singular purpose of providing shelter and love to animals – strays, abandoned and the injured.
Dey, a Shillong-based lawyer founded HUFAN whose president is Farooque, an engineer by training. In the course of feeding animals, the two realised where/who they were passionate about. Interacting with animal lovers on social media ignited the passion and the NGO, now with 68 volunteers, was born.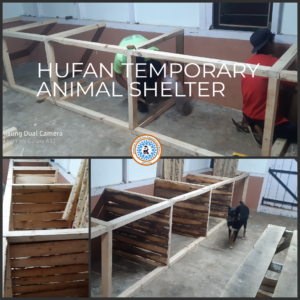 The organisation's general secretary is Bernadeth Sohtun, who quit her job two years ago to start her own business. She signed up with the NGO full-time after finding out that it needed someone to look after the animals. Social media also brought Reni Kojur, a content writer, and Jayprakash on board HUFAN.
Nimchi Ao, currently pursuing his Bachelors at ICFAI University, had met Farooque while volunteering for COVID duty. He went on to join HUFAN.
Damerbha Rumnong, a grade X student became a member while rescuing a stray named Lady. Her mother, Ibalawan Rumnong is the advisor of the NGO.
Sunday Shillong met the dynamic team and a few dogs that were rescued by them.
Lady and Co
Say hello to Lady, a stray who survived the streets. Her owners were labourers who came to Nongkseh during the lockdown. Pongo, her pup, accompanied her. Both were thin and malnourished. Damerbha would feed them every day and ended up adopting them.
Lady, four years old, gave birth thrice but only Pongo survived. But survival was tough.
Pongo contracted the Parvovirus. During that time, he freed himself from the leash, was found in a paddy field in Pynthor and was rescued again. He was taken to the vet and it was then, that the team got to know of the virus. He was kept in isolation and given medicines. He is almost a year old.
"Pongo is a healthy dog now. That he fought the virus successfully shows that he is a survivor," Damerbha said.
Snowy, a Pomeranian, was abandoned two years ago following blindness in both eyes. Quite a few NGOs stepped forward to keep him but could not because of his condition. Finally, a few teachers from the Army School, Happy Valley, called the HUFAN team.
They took him to the doctor, only to realise that treatment was expensive – Rs 75,000 for each eye with a survival chance of 20%. Together, they decided to bring him to their temporary shelter. This little fighter, now five years old, remains active.
"He is fine and can sense flies," Farooque said.
Buch, a three-month-old puppy was found a few days ago. The HUFAN team got a call from a Rynjah resident who told them that he was not in a good condition. They could not rescue him because it was too late at night.
One of the volunteers rescued him the next day. HUFAN has taken the responsibility of providing medical treatment to him and keeping him in the shelter.
The team also rescued Milo from Jhalupara. Circumstances made HUFAN shift him to a shelter run by People for Animals in Guwahati.
Both Milo and Buch are paralysed.
The common thread binding their stories is the incredible strength of these animals. That they have survived against all odds and found hope is something HUFAN is proud of.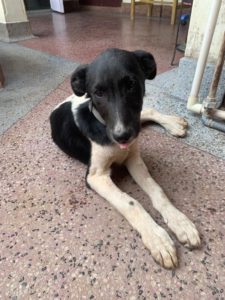 Collaborative Efforts
The HUFAN team has also rescued two owls, one from Police Bazar and the other from Seven Mile. The latter did not live for long. The other, still alive, was handed over to the Wildlife Department.
A big and rare flying squirrel got stuck on an electric pole. It was a Sunday morning when Farooque got a call. They rescued it with officials of the Wildlife Department. He is fine now and currently in Lady Hydari Park. HUFAN is keeping a track of its well-being. Once things look good, he will be released in the forest soon.
A different NGO had rescued a cat, named Meow-Meow. Its treatment was later done by HUFAN. Now he is fit and fine, and able to walk.
One of HUFAN's more difficult missions involved a cat that was up a tall tree at Last Stop, Laban. The fire brigade got involved in this one. They had to abort the mission as the cat kept climbing higher. After three days, she came down on her own.
Another cat was rescued near St. Peter's School. MSEB was part of this joint operation.
These collaborations have further shaped their understanding of the nature of rescue mission work.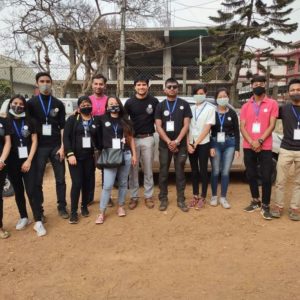 The Journey
Our conversation shifted to how the animals adjust to a new environment.
"Lady is true to her name. She is truly a lady," Bernadeth said, adding how there are funny stories too. Pongo and Snowy don't always get along and are aggressive and jealous of each other. That said, both are also curious about each other.
Most of the animals take time to adjust.
Once the animals get well, HUFAN looks out for adoption. But people hardly come forward. Pets are often not seen as family members; a reason why many are left abandoned.
Abandoned animals don't know where to go. The NGO steps in to provide a home to them. Strays, on the other hand, can manage to survive anywhere.
The time period from the rescue mission and treatment to adoption varies. For a skin condition, it can take up to two months; the ones suffering from paralysis take a longer time to recuperate, sometimes, even years; and for burns, it usually takes a week.
We also spoke of how difficult it is to part ways with the animals. Even if they get well, most people in the city have their prejudices and hardly accept them. HUFAN has ended up adopting most of such animals.
This is one of the reasons why they plan to build a permanent home. The team is planning the layout and working out the financial aspect. This is where Ibalawan steps in. Be it an awareness campaign or funding, her guidance comes in handy.
Currently, they keep the animals in a temporary shelter built inside the residence of Ibalawan.
On August 15, 2020, they tied reflective collars on all the strays in the city. The aim is to prevent accidents from happening at night. HUFAN feeds them regularly.
In March, they celebrated their one-year anniversary and gave the anti-rabies vaccine to all the stray animals for free. They have registered with Society for the Prevention of Cruelty to Animals.
HUFAN is not just limited to animal rescue. They have held blood donation camps too.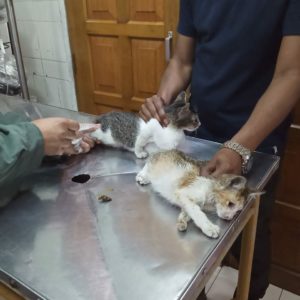 Challenges along the Way
Financial constraint is a major concern.
For now, the team members pool in from their own salaries, half of which goes into the NGO. Apart from this, they have membership fees. For students, it is Rs 150 and for working professionals, it is Rs 500.
They are trying to get financial help from the government as well.
In addition, the Veterinary Department has been pushing them to get registered with the All-India Animal Board. They give three kinds of funding – shelter maintenance, rescue and salaried, where 10 volunteers get Central government salary.
It is not easy to manage strays as they are not used to shelters and get restless. Often, they get aggressive and it can take months to get them comfortable. "We cannot just go and pet them," Farooque said, adding that they do get friendly with time.
To give them constant care and hope is often challenging, considering that no two animals have the same personality or temperament. To run an animal NGO requires patience. They are looking for support from the people of Shillong.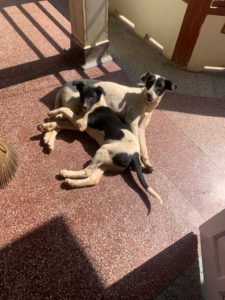 The Way Forward
While on their rescue missions, they have faced a shortage of equipment. For now, they have nets and dog-catchers, but more is needed. We spoke about how they are not fully trained to rescue wild animals, in particular. They realised the need to have cutters to cut through the iron rods and tranquillizers, for instance.
For this purpose, training is required and they are looking to collaborate with the Wildlife Department for workshops for the volunteers. They have also planned extensive awareness campaigns.
What Can We Do?
People think it is easy to run an NGO, but a lot goes into it – covering medical costs is just one aspect. Many a time, volunteers have skipped their food in order to rescue and take animals to the vet. Bernadeth has often been with the vet from morning till evening.
HUFAN is hopeful that friends, well-wishers and animal lovers will come forward to help them in every way.
Perhaps, now is the time to reach out to Humans United for Animals and Nature.