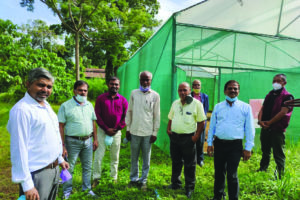 JNV Williamnagar achieves 100 pass pc in CBSE 12th results
TURA, Aug 3: The Jawahar Navodya Vidyalaya (JNV) Williamnagar has achieved cent per cent pass percentage in the recently declared All India Senior School Certificate Examination (AISSCE). According to a statement from JNV principal, while Thanori B Marak (90.2%), Sweety Hajong (88.4%) and Nitesh Kumar (86.0%) secured 1st, 2nd and 3rd positions in the Science stream respectively, Pronali T Sangma (93.2%), Eudia M Sangma (92.0%) and Chisaweara R Marak (89.4%) were the 1st, 2nd and 3rd position holders respectively from Humanities.
Plaint over no response to RTI
TURA, Aug 3: The Garo Students' Union (GSU), Mindikgre unit, has moved the State Chief Information Commissioner with a complaint against the PIO of the PHE department in Baghmara, for reportedly failing to reply to an RTI application that sought the details on allotment of funds for a water supply scheme project. The RTI application, which was filed by Mindikgre GSU president, Greneth M Sangma, had sought information on the amount allotted under the water supply scheme project by NABARD (RIDE-XXV) 2019-20. It had also sought details on the Detailed Project Report (DPR) approved by the government, copy of tender notice, the name of contractor(s) to whom the work was allotted and the site map of the proposed project. "Besides filing the RTI, I have also sent a complaint letter against the PIO through email to the proper authority. However still there has been no reply to my RTI," Greneth said. In his complaint, Greneth has urged the official to look into the matter and take necessary action as prescribed under RTI Act, 2005.
Vax awareness in EKH, RB villages
SHILLONG, Aug 3: In keeping with its objective of disseminating awareness among the masses on COVID-19 vaccination, the Indian Red Cross Society, Meghalaya, along with the Block Development Office of Umsning organised an awareness programme on vaccination at Mawpat and Mawshunam villages under Umsning C&RD Block in Ri Bhoi on July 30 and Nongpuir village under Mylliem Block in East Khasi Hills on July 31. As is customary, face mask and soaps were distributed among the participants during the programme.
Theft bid foiled in Nongstoin
NONGSTOIN, Aug 3: Public apprehended one Shanborlang Lyngdoh Marngar (27) of Them Iew Nongstoin on Tuesday while he was attempting to steal music system from a vehicle at the parking lot of DTO Nongsotin. He was subsequently handed over to Nongstoin Police. Marngar's accomplice, identified as Kyntiew of Nondein, however, managed to flee the scene and search is on to nab him. Sources said that two unknown persons entered the DTO parking lot and attempted to steal the music system of a vehicle which belonged to one Gilbert Wahlang. However, the vehicle which was fitted with central locking system because of which the public nearby was alerted, and they managed to apprehend Marngar but the other culprit escaped.