SHILLONG, Jan 14: Congress leader Ampareen Lyngdoh on Friday said the Garo Hills Autonomous District Council (GHADC) should institute a probe into the allegation that Assam is trying to evict the residents of Meghalaya on the pretext of 'evicting illegal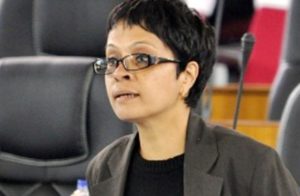 occupants" in West Garo Hills.
"Illegal occupation of our indigenous communities in our own land is beyond the purview of the Assam Police. The GHADC should institute an inquiry immediately and the report should be shared with the state government," Lyngdoh said.
She asked: "Why is Meghalaya allowing this bullying on the land which is ours?"
She further said, "The borders are our treasure and no dispute should be taken lightly. This high-handed and oppressive action of Assam will jeopardise our boundaries."
According to a statement issued by the president of AHAM Central Executive Body, Georgeprince Ch Momin, the feud in the Chatibui market of Garo Hills took place on Thursday when officials of the Assam government, along with policemen, came to evict the residents of Meghalaya on the pretext of evicting illegal occupants.
The Assam officials reportedly claimed the land belongs to one Akash Ali from Mancachar and thereafter, attempted to evict the residents and the shopkeepers. However, when the leaders and the members of AHAM asked them to buttress their claims through documentary evidence, they failed to do so.
Momin said the residents and the shopkeepers from Meghalaya have evidence to prove that they are paying taxes for the land in question to the GHADC ever since its formation. As such, he said, such intervention by the Assam Police is uncalled for and questionable.
The leaders of the AHAM are planning to meet Chief Minister, Conrad K Sangma and apprise him of the matter, keeping in mind the ongoing developments towards resolving the border issues.