SHILLONG, Jan 14: The state government has instructed the National Building Construction Corporation (NBCC) and the East Khasi Hills district authorities to work on the possibility of pushing the border fence with Bangladesh towards the zero line to prevent Lyngkhong village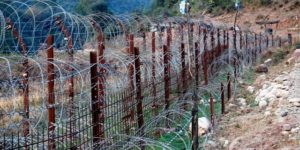 from being cut off from the rest of the country.
"We have instructed the district administration to work out with NBCC how to push the (alignment of the) fence towards the zero line," Deputy Chief Minister Prestone Tynsong said.
Lyngkhong falls under the Pynursla Assembly constituency that he represents.
The residents of the village have said they live in fear of being cut off once the fencing work resumes. The work has been halted due to protest from the villagers.
Tynsong said the complication has cropped up due to the international guidelines on borders between two countries.
"The ground reality is different. We would like to get closer to the border pillar wherever possible and instruction has been given to the agency and district administration concerned," he said.
Stating that the NBCC is trying to find a way out, Tynsong said isolated villages have to be within the international fencing made by the government of India.
He said there are instances of farmland falling beyond the international border fence but leaving a village out could lead to complications.
Citing international rules, a Border Security Force official said the fence has to be built 150 yards inside the zero line separating India and Bangladesh. But the Border Guards Bangladesh have agreed for the fence to come up nearer the zero line in cases of habitations such as Lyngkhong.
The Bangladesh government has given "concurrence" to relaxing the norm in at least seven such locations along the border in Meghalaya. A proposal for Lyngkhong has been initiated too, the official said.
There are 13 such areas awaiting approval from Dhaka, and this may require years of negotiations, the official said.