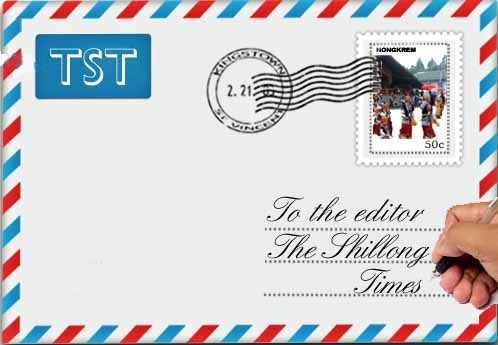 Editor,
A tourist from outside Meghalaya was heard asking a tourist cab in Shillong to take him to the "Seven Sisters Falls". I am now 74 years old, born and brought up in Shillong and this was the first time I ever heard of such a tourist location here in our state. Has Government of Meghalaya created an artificial tourist spot with seven water falls? I was intrigued to say the least. I checked and was flabbergasted to come across flamboyant Indian Tourism advertisements on the net ( I deliberately refrained from searching what Meghalaya Tourism had to say because of an instinctive fear that I would be culturally assaulted) describing the so called Seven Sister Falls as "also known as the Noh- sngi –thiang or Mawsmai Falls , a seven segmented water fall located 1 km south of Mawsmai village in East Khasi Hills district in the Indian state of Meghalaya".
"Also known" !!!! As God is my witness the said falls have always been known as Noh- sngi –thiang or Mawsmai falls and never in my wildest dreams have I ever thought that it would be known otherwise. Now please don't get me wrong. I have not the slightest interest in promoting narrow minded, insular, parochial thinking, but I sincerely believe that a small gesture of respect for local sentiments are in order while attempting to identify local places of interest. Now will Noh-kali-kai, Dain thlen, Mawlynnong and perhaps even fascinating Shnong Pdeng of Dawki be renamed just because such alterations sit easy on non- Khasi tongues? Or is Meghalaya simply trying to be in vogue with the latest nationalistic and patriotic trend of changing even old historic locales! Its idiotic and sheer nonsense! I fail to understand how Meghalaya tourism simply went along with this outrage nor am I able to understand the people of Sohra and Mawsmai, their Rangbah Shnongs and the Syiem of Sohra being so tolerant into this intrusion on their heritage sites. My sincere request is for the Government of Meghalaya and its Tourism Department to take immediate steps to correct this cultural incursion on our indigenous sensitivities.
Yours etc.,
Toki Blah,
Via email
Prevention is better than cure
Editor,
They say that when people are threatened with danger they are most law-abiding but when danger is absent they act in a laissez faire manner. News reports show that the Covid pandemic is far from over. Cases in some states like in UP, Delhi and elsewhere are rising rapidly and exponentially. Talking to some doctors in our city, they all agree that Covid 19 is very much present with us; only we are choosing to ignore its presence. This is definitely not a good policy for the government to adopt. If tests are conducted in the state, we would be surprised to see thousands of cases. It is true that the symptoms are mild and hospitalization is minimal, but we are never sure of the virus' potential to mutate further. God forbid it from happening or else we could be in another health emergency. It is a matter of concern to see people today roaming freely without face masks and without worrying about social distancing.
In commercial centres like Iewduh, Police Bazaar, Polo and other places, it is appalling to witness throngs of people rubbing shoulders with each other and hardly anyone with a face mask. Many right thinking people are of the opinion that the government should not take things lightly after we have had such a terrible experience in 2020 and 2021. Of course a measure like lockdown is absolutely out of place, but certain basic Covid protocols should be re-imposed at the earliest. Perhaps Covid test for visitors from outside the state should be re-introduced. The three important Covid behaviors, namely, sanitizing hands, use of face masks and maintaining social distance, should become obligatory at the earliest. Another measure the government needs to take is to restrict mass gathering of people, keeping in mind that this virus is spread through aerosols. We are dealing with a highly transmissible virus and so mass gatherings of people could easily turn into super spreaders. We hope the government will consider people's safety more important than economics. It is not advisable to indulge in damage control rather let us prevent tragedy before it happens.
Yours etc.,
Barnes Mawrie,
Via email