By Patricia Mukhim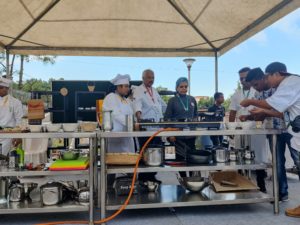 On September 10-11 the Institute of Hotel Management (IHM), Shillong hosted a national level programme showcasing the possibilities that buckwheat the new super crop grown in Meghalaya promises to health enthusiasts. Farmers from different districts of Meghalaya, some who have started growing buckwheat and others keen to grow the crop were the most interested participants in the 2-day Global Buckwheat Showcase event. But there was also a stream of visitors from Shillong and some from outside the State as well.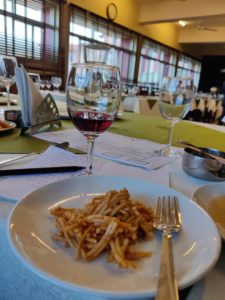 However, buckwheat was not the only crop that was showcased at the event. A large number of local wine producers were also present. Also, there were entrepreneurs who have started producing cakes and cookies out of millets such as Health Quotient Inspired (HQI) a barefoot venture by Bibbudutta Sahu and his team showcased their products too. Millet is the next health food with a glycaemic load of 51.1 as opposed to flour (maida) which has a glycaemic index of 75. The event was educational in many ways especially for diabetics and those vulnerable to it. "The healthy alternatives to wheat promise better health for future citizens," observed a visitor.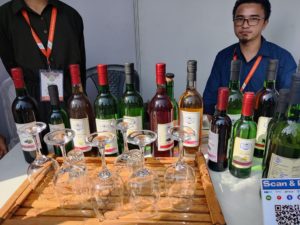 But buckwheat was not the only novelty that attracted visitors. The huge varieties of fruit wines attracted many footfalls. Indeed those who cared to visit the IHM on those two days got a glimpse of the possibilities that the local fruits offer to wine makers. Present at the venue on both days were expert wine producers and technicians such as Dr Yogesh Bhandane, CEO of the Boroton Research, Nashik but with experience of wine making in the US. Also present was Gaurav Thapar, Wine & Spirits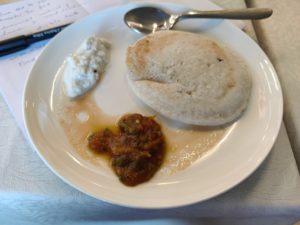 Consultant and Educator who gave a session to invited guests on 'Fruit Wine and Buckwheat Pairing.'
Thapar, a connoisseur of wines explained to the wine makers that they should not copy grape wine but keep it pure and natural in terms of allowing the full flavour of the local fruits to rise. "Food and wine should pair well and not fight each other like in a boxing match. Good wine releases gastric juices. Red wine goes well with red meat and something that is close to it. What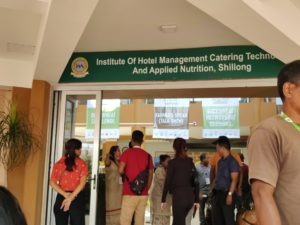 grows together goes together,"  Thapar explained, adding that mushrooms go well with most wines.
Perhaps what most wine drinkers are not aware of, Thapar said, is that wine should be as sweet as the food or sweeter. Food should never be sweeter than wine. The warmer the temperature, the sweeter the wine. "Wine and food pairing knowledge can help you make money, " he told the young entrepreneurs.
The wines that were served by the elegant, demure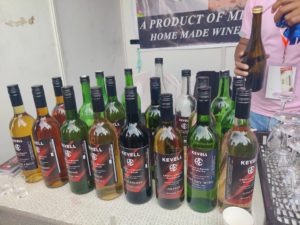 and courteous students of IHM were from the brand Kynjai which makes Wild Apple wine, brand Canari which makes Sohiong wine, brand Asame from Garo Hills which makes Jamun wine, brands Emsan and Kevel which also make Sohiong wine. So, as far as Meghalaya is concerned Sohiong seems to be the fruit of choice for wine-making.
The pairing for wild apple (sohphoh in Khasi) wine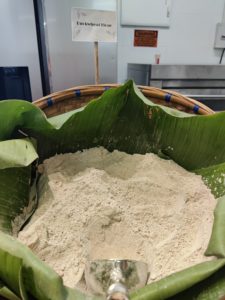 was buckwheat spring rolls. The two paired very well according to the tasters. Sohiong wine was served with buckwheat putharo with a little chutney. That too paired very well. The Jamun wine was paired with buckwheat pukhlein (a Khasi pitha). The last two Sohiong wines were paired with buckwheat spaghetti and buckwheat brownies. The guests commented  on each pairing and also gave instant feedback about which wines they found were full-bodied, which were too sweet and which could have been paired better.
During the session, Gaurav Thapar also explained to the guests that taste is a chemical compound that is detected by the tongue while flavour comes from the mind. The taste plus the aroma gives wine its flavour and are therefore very important.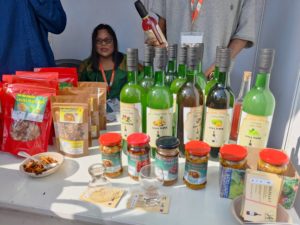 If this coding is wrong, then the wine could go wrong. "Flavour and aroma should be balanced," Thapar explained.  He also advised the wine producers to stick to the local names of fruits like Sohiong instead of calling them blackberries, since that too is a selling point. He reminded the guests about the famous Santori wine of Japan which is a trademark of the country.
While all this was going on, the celebrity chefs from across the country were demonstrating to the enthusiastic crowd outside culinary delights that could be turned out from buckwheat. They included Chefs Joel Basumatary, Proprietor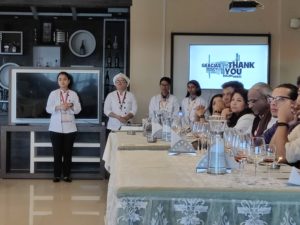 of "Smokey Joes", Dimapur, which focuses on progressive Naga Food, Judge of the popular contest "Naga Chef", & an active associate of North East Slow Food & Agrobiodiversity Society (NESFAS), Chef Gunjan Goela, Vice President, Slow Food Chef's Alliance India, and a member of wide range of boards & governing bodies of food related organizations. T K Razdan, Mentor, consultant & a distinguished trainer with 40 years of experience in hospitality education and an empanelled trainer with DoPT Govt.of India, Sanjat Thakur Principal IHM, Hyderabad with various awards and titles such as an "Unsung Hero" award by the Accor Hotels International and recognized by Rotary Club for providing Top Class Education. Vijay Kumar, OSD, Institute of Hotel Management, Aizawl, Mizoram, Principal incharge of IHM Shillong who is highly skilled in Catering, Restaurant Management, Food and Beverages, Front Office, & Hospitality Management.
Credit is due to the Principal, faculty and staff of IHM Shillong and the Farmer's Commission of Meghalaya for hosting such an eventful gathering which had a huge contingent of Japanese participants who avidly interacted with the visitors. For many, including the noted researcher and Social Anthropologist from the University of Stockholm and author of the book 'The Unruly Hills,' Bengt Karlsson who was present at the wine pairing session, "It was a session I could not have missed. As one who is deeply interested in food sovereignty among the indigenous peoples, I find this a very compelling venture. Besides, I have always been interested in buckwheat. "