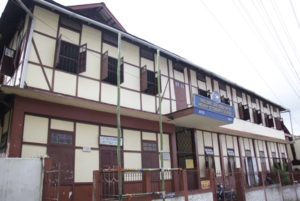 In this episode of Shillong's Iconic Structures, we are featuring the Jail Road Boys' Higher Secondary School, arguably the only Bengali vernacular school in Shillong, back in the day. Established in the year 1913 by the Jail Road Society Hall, it is located adjacent to Shillong District Jail near Khyndai Lad.
The school at Jail Road emerged from a perceived need in the first decade of the 20th century among the members of the Bengali community, particularly those residing within the locality and the adjacent localities of Shillong then, to impart primary-level education to the children through the linguistic medium of Bangla. 
Let's dive into the history of this school: 
In 1896, the then Deputy Commissioner of Assam, Col Lt Howell donated about 18183.47 sq. ft. of land to Jail Road Society Hall to be used for religious, social, and other welfare activities. 
Sadaya Charan Das, a retired District Magistrate and founder of the Jail Road Society Hall contributed immensely to the establishment and growth of the school.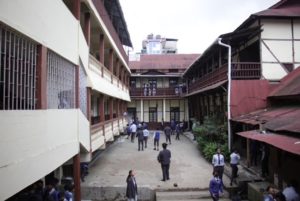 The donated land was a hillock and much time and effort were spent preparing the land for the construction of a school building, a playground and a hall to perform religious and social activities. In 1913, the Jail RoadInfant School, with Rajendra Choudhury as its founding principal, was constructed by the Society Hall at the present site, adjacent to the jail compound. 
In the 1920s, the Society Hall initiated the construction of another school building in the same premises and in 1922; the school was upgraded to Middle English Standard. The capacity expansion in infrastructure led to the formation of the Jail Road Boys' High School in the years between 1929 and 1933, with Satish Chandra Sikidar as the Principal. 
By then, the lower primary section had to be shifted to another location – on the southern part of the school's boundary where the Society Hall stands at present.
Sikidar, who was the principal of the High School from 1925 till 1960, played an instrumental role in transforming the learning centre into a high school of regional repute. His years of service were characterised by a steady increase in the institutional scope and community imprint.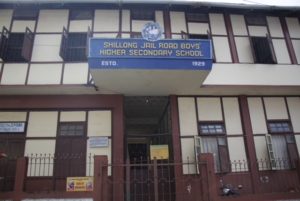 The 20-year trajectory of progress culminated in the first batch of the students appearing for their matriculation examination in 1935, following an official grant of recognition a year earlier, by the University of Calcutta (now Kolkata).
The decision to construct new buildings for the school was taken in 1949, to manage a heavy inflow of students from East Pakistan during the 'Partition' period. 
 Major portions of the main structure constructed in 1949 still stand strong. The two-storeyed Assam-type structure, with wooden frames, pitch-roofing, and ekra walls, accommodates students from the secondary section. The higher secondary and lower primary sections are housed in the four-storeyed concrete building, constructed in the later years. The two buildings are separated from each other by a mini playground at the centre.
(Watch the full version of the story only on our YouTube Channel @TheShillongTimes)