City atmosphere remains tense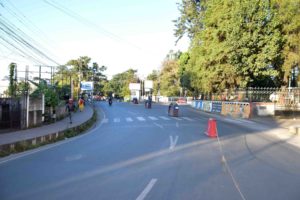 SHILLONG, Nov 26: A tense atmosphere prevailed on Thursday across the Shillong as many avoided venturing out after ugly incidences following protest over Mukroh killings in the city. Nonetheless, no incidents were reported from the state capital.
Shillong Police confirmed that no untoward incident took place in any part of the city till the time of the filing of this report.
The morning saw more activities but as time approached for the protests of the pressure groups, some shops in Police Bazar downed their shutters and lesser vehicles could be seen plying in the city.
By 7 pm, almost all shops in select locations were closed as people went back to their homes in the evening.
Several cops and security personnel were seen guarding different locations in the city.
No untoward incident was reported on Saturday barring confrontation between members of pressure groups and police for some time at one of the protest sites.
The Hynniewtrep Integrated Territorial Organisation (HITO) organised a candlelight vigil at State Central Library. There was strong police presence at the venue.
At Chief Minister's official residence in Polo, pressure groups burned effigies to register their protest.
Soon after the protest at Polo, shops there closed down too, while the vehicles were diverted away from the site of agitation. Shops in areas like Laitumkhrah also shut down much earlier.
24-hour vigil at Assam House
Two important installations in the city — Assam House and Asom Kristi Kendra at Dhankheti — were seen heavily guarded on Saturday.
The police picket is on a 24X7 basis.
The security personnel have been deployed at the aforementioned locations to avert any possible intrusion by miscreants.