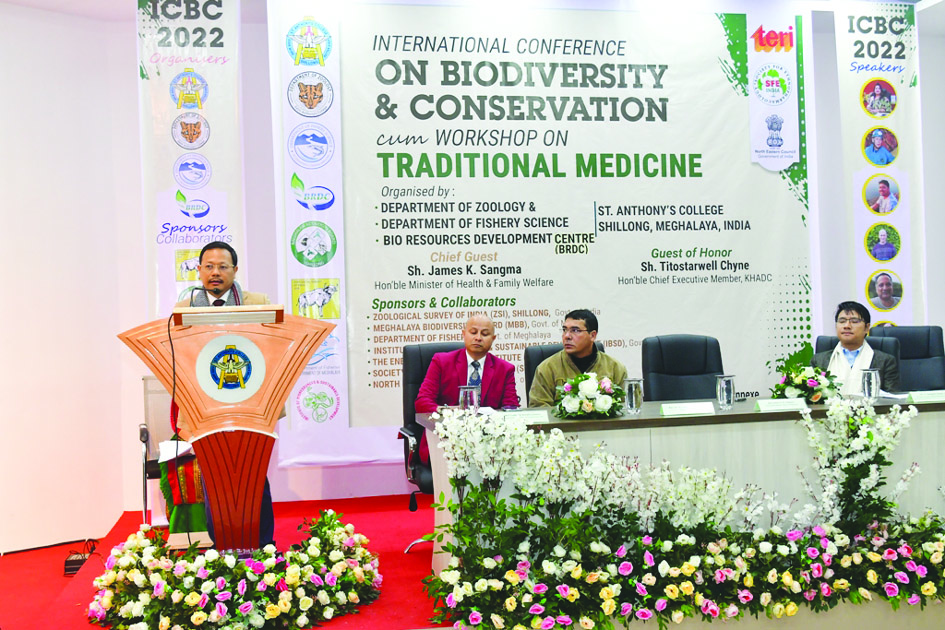 SHILLONG, Dec 14: Forests and Environment Minister James Sangma has expressed hope that the practice of traditional and modern medicines will, in the near future, coexist healthily.
James said this during the inaugural programme of 'International Conference on Biodiversity and Conservation-cum-Workshop on Traditional Medicine' at St Anthony's College, Shillong.
It may be mentioned that the two-day programme has been organised by the Department of Zoology and Department of Fishery Science of St Anthony's College, Shillong, in collaboration with the Bio-Resources Development Centre (BRDC), an R&D institution under Planning department.
Addressing the inaugural programme as the chief guest, the forest minister said that the programme is being organised in a bid to not only share ideas and knowledge but to also encourage the traditional healers to continue and preserve the traditional practices and knowledge.
He also lamented the dwindling practice of centuries-old traditional medicine over the years.
"But I am happy to witness that such programmes are being held to not only popularise the ancient practice but also to revive the age-old tradition that our forefathers practiced," he said, expressing hope that in near future, both traditional and modern medicines as well as treatment can coexist healthily.
James also informed the gathering that the state government, as part of the 50th Statehood Day celebrations, will inaugurate an Ayush & Traditional Wellness Centre at Bio-Resources Development Centre experimental farm at Laitmynsaw village in Upper Shillong.
Informing that the state government has been laying importance to and stressing on the importance of biodiversity, James said, "With Meghalaya having one of the richest biodiversities in the country, it is important to recognise our strength and look for means to leverage it and take conservation efforts to a whole new level."
While stressing on the importance of youths in conservative efforts, he informed that Meghalaya is one of the few states to have started the Payment for Ecosystem Services (PES). "The aim is to not only involve just the youth as stakeholders but the community as a whole," James said.