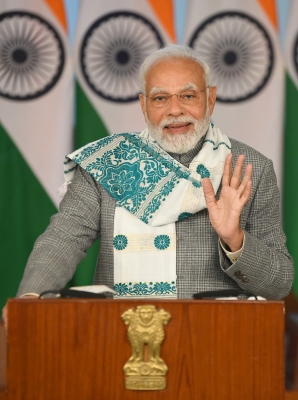 New Delhi, Feb 3:
 Prime Minister Narendra Modi on Friday said that the nation gives top priority to those who have been so far deprived and neglected.
Addressing the Krishnaguru Eknaam Akhanda Kirtan for World Peace, being held at Krishnaguru Sevashram at Barpeta in Assam via video conferencing, PM Modi said that the government has given priority to the deprived.
Giving examples of the state of Assam and the northeast, the Prime Minister observed that these regions have been neglected for decades when it comes to development and connectivity, but they are being given top priority today.
Krishnaguru Eknaam Akhanda Kirtan for World Peace is a month-long kirtan which has been going on since January 6 at Krishnaguru Sevashram.
Referring to this year's Budget, the Prime Minister underlined the same priority for the deprived as the key guiding sentiment.
Noting the role of tourism in the economy of the Northeast, PM Modi said that this year's budget provision of developing and upgrading 50 tourist destinations will benefit the region a great deal.
IANS