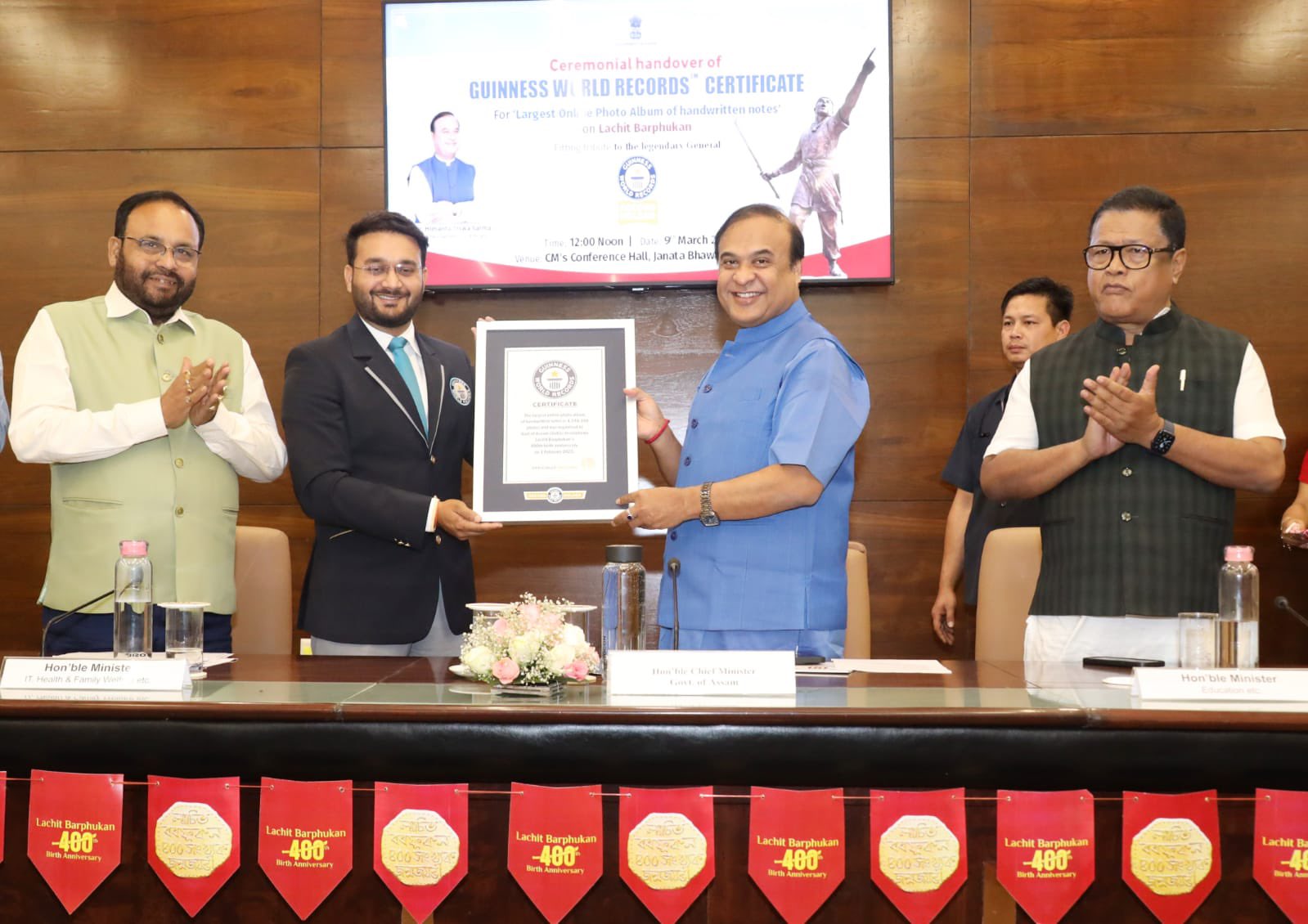 Shillong, March 10: Assam entered the Guinness World Records for the largest online photo album of nearly 4.3 million essays on the legendary Ahom general Lachit Barphukan as part of the state government's year-long celebration of his 400th birth anniversary.
Guinness World Records adjudicator Swapnil Dangarikar handed over the certificate to Assam Chief Minister Himanta Biswa Sarma at an event held in Guwahati.
"Only those things which can be measured can qualify for records. But qualities like bravery and courage can't be measured in numbers. To showcase that something has to be done we can count or vouch for it," Dangarikar said.
"We had received around 5.7 million entries in our portal, but only hand-written essays were considered for the record. This a proud moment for the people of Assam," Himanata Biswa Sarma said.
The essays written by students, government officials and other individuals from within Assam and outside in Assamese, English, Bengali, Bodo and other languages were uploaded between October 26 and November 26 last year.
Sarma spoke about the Assam government's effort to get a world record tag for the 226-year-old Baresaharia Bhauna of Jamuguri where Vaishnavite plays are staged simultaneously in 21 stages for 4-5 days.
"We have many such unique things. But we need to tell our stories to the world. We waited for 75 years for a move to get a UNESCO world heritage tag for the Charaideo Maidams of Ahom kings who are buried there," said Sarma.
On April 14, the Assam government will try for another world record where over 11,000 participants will perform Bihu dance together at a stadium in Guwahati. Similar efforts will be undertaken for the Bagrumba dance of the Bodo tribe and playing of nearly 50,000 'khols'.