Kolkata Trams: Streetcars of desire fight losing turf battle
As Kolkata trams celebrate 150 years of its rollercoaster journey in the eastern metropolis, the city's signature streetcars fight a losing turf battle despite all ado over heritage. Sujoy Dhar reports
By Sujoy Dhar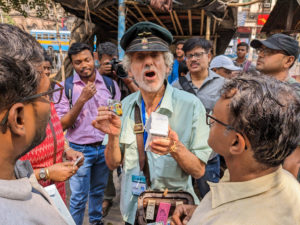 They have been Kolkata's essential urban landscape since 1873. Well, that is 150 years!!! But it is a losing turf war for Kolkata's tram now as they fight decades of apathy and inattention despite being a symbol of the city's colonial and post colonial heritage. 
They are still darlings of Bollywood filmmakers shooting sequences and songs in the Kolkata streetcars to add layers to their visual contents. Tinsel town stars would essentially board a tram and a yellow taxi in Kolkata to promote their films. 
The slow-paced but environment-friendly trams, which often fill the air with electric sparks as they trundle down their tracks, have been abandoned in favour of faster transport over the decades. Their tracks have been pulled out to make way for more vehicles while metro railway construction dealt it with further blows.

But trams- the father of all electric vehicles without exaggeration- is not definitely the darling of the ruling dispensation in Bengal.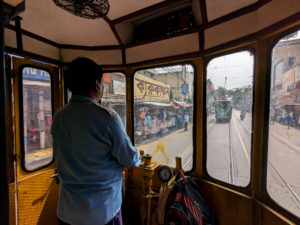 Losing Turf Battle
So the news came as a heartbreak for many amid the 150 years celebration of Kolkata's tram when it was known that the government has decided not to bring back the streetcars in the disused routes anymore and instead run it on the courses touted as "heritage routes". 
As Kolkata in the last week of February celebrated Tram Yatra (Melbourne and Kolkata are celebrating this festival since 1996 as the two rare examples of cities outside Europe that have used trams continuously since the 19th century),  in the presence of Melbourne  tram conductor  and "save Kolkata tram" livewire Roberto D'Andrea, the West Bengal transport minister informed that the trams would be run as heritage in only four routes of the city.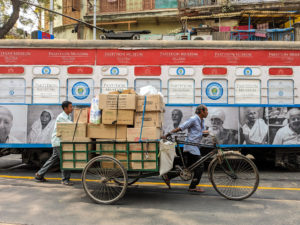 Sagnik Gupta, a filmmaker and member of the tram lovers group called Calcutta Tram Users Association (CTUA), says there is almost a masterplan to close the disused tracks (they were suspended for metro rail work) despite trams being known as the master of all e-vehicles and despite the city still having a magnificent network and infrastructure to run trams by revamping it for the modern days. 
"From mass scrapping of heritage wooden bodies, to closing over 20 routes in the past six years, infrastructure destruction, selling off of big chunks of depot lands, zero recruitment and frequency coming to two hours from 45 minutes, the list can go on," he says.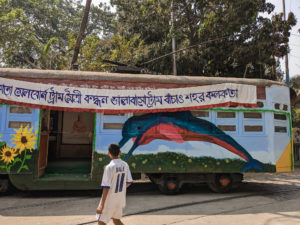 "All tram employees are old and about to retire. The cars are unclean as if almost deliberately. Today they have to be part of the integrated transport system of the city and modernized," he says.
"Calcutta Tramways played a huge role in the freedom struggle of India and during the riots of Bengal. The Calcutta Tramways also faithfully served Kolkata by moving its millions on a daily basis, with over 40 routes and nonstop service from four in the morning to 11.30 in the night, Calcutta Tramways was the premier mass transit system of Kolkata," he says.
"This eco-friendly mode is ideal for a city like Kolkata which has a meager 6% road space, it is highly reliable, and as a bonus it also has a heritage value to it! When 400+ cities across the world are opting for trams we at Kolkata are throwing it away into the gutter!" he says.
Even in 2015 the number of operational tram routes were 25, and from that in less than five years the number of tram routes currently running is two, he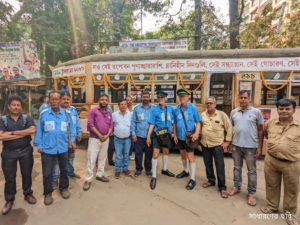 laments.
"Since 2017, the decline has been rapid, now only two tram routes are operating. The people of Kolkata seem to have almost forgotten the tramways that once ruled the city streets," Gupta says. The two routes operational now are numbers 25 (Gariahat-Esplanade) and 24/29 (Tollygunge-Ballygunge).
Today the sprawling tram depots are also prone to the greedy eyes of city's real estate sharks.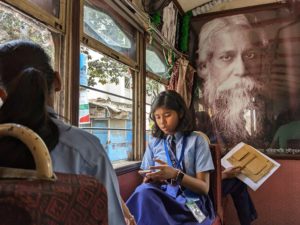 The History
"Kolkata has a true surviving tram system like we have in Melbourne in Australia. They are important for the city," says Roberto   D'Andrea who first travelled to India in 1994 close on the heels of his tram-driving girlfriend who was visiting Darjeeling. 
During his visit he got to know his counterparts in Kolkata and went back to Melbourne to follow up on keeping Kolkata trams alive. The outcome was the first Tram Yatra in Kolkata two years later with Melbourne.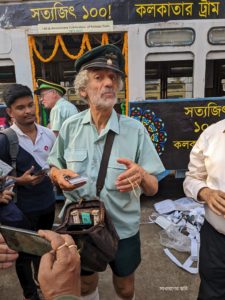 While trams now are Kolkata's romanticised street cars rumbling through the streets of a choc-a-bloc city with the signature clanging sound of their bells and often filling the air with electric sparks while drawing power from the overhead lines, they renew everyday a covenant between the city's present and the past. 
As trams run past the city's old buildings, modern high rises and chaos, they cannot vie cheek by jowl with modern day transports. But they have been plying Kolkata since 1873, and surviving the many apathy of the government. 
They lost the dedicated corridors meant for them as the civic fathers de-reserved the tram boulevards to make way for more motor vehicles, but still they managed to remain in the city that was once the British Raj capital.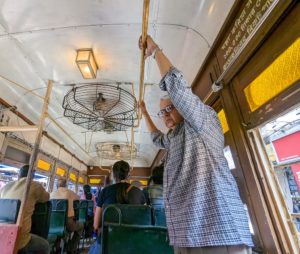 Amid this monumental neglect, the trams tell the story of the city's life and times since 1873 when they were first introduced as horse drawn carriages. Kolkata also can boast of having the oldest operating electric tram in Asia running since 1902.  
A horse drawn tram system opened in Kolkata from January 1881 after a premature experiment in 1873. A steam tramway line opened in 1882. Electric trams became a reality on March 27, 1902 and by 1921 there were 56 km of track and 512 cars in service, according to Calcutta Tramway Company (CTC).  
While trams faced many hurdles to survive, in Oct 2013, it kind of got a fresh lease of life with their re-introduction on a route where once upon a time commuters would wait only for a tram car till a concretization project interrupted their plying for years. 
The metro railway extension network in recent years dealt another blow as many routes were closed.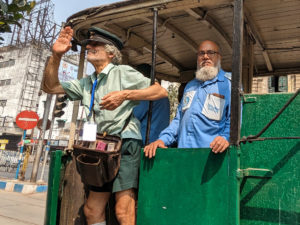 Of heritage, tourism and Tram Yatra boost
While the city sadly is slowly phasing out trams as a means of transport for the common people, it survives as a magnet for tourists and filmmakers, especially Bollywood since the trams exist only in Kolkata. 
Tram Yatra is one such occasion and even this year it was celebrated with fanfare and many events. It does have the support of the West Bengal Transport Corporation (WBTC) though.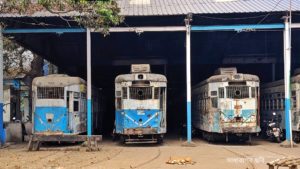 A 1920s tram car that was  used to supply water and wash tracks nearly 100 years ago chugged along to celebrate the 150th anniversary while two street cars made of wood also took to the tracks during the Tram Yatra.  
"After 10 long years, two wooden body trams trundled out from the Nonapukur Workshop like it was yesterday! Trams are indestructible! And British trams were built like a Tank!" says Sagnik Gupta, adding that in today's time they have to be revamped thoroughly.
Special events like Tram Parade and photo exhibitions were held.

Roberto D'Andrea, the man behind the unbroken relationship between Kolkata and Melbourne tram enthusiasts, was himself very much the part of celebrations.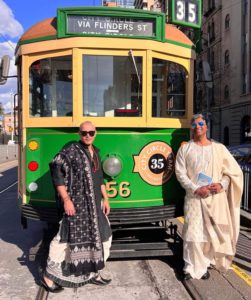 The streetcar of Kolkata's nostalgia survived and at times reinvented itself since it is the only Indian city to have them.
A group called Rakshak Foundation in association with West Bengal Transport Corporation (WBTC) in December of 2020 (amid the pandemic) launched the heritage tram Paat Rani (Paat meaning jute and Rani meaning queen).

The tram comprises a store of jute promoting diversified products.

Since last year Kolkata also has a tramcar refurbished to be turned into a 20-seater restaurant. The tram restaurant near city's Eco Park, in Newtown, Kolkata is a sad reminder of a street car wooing foodies and tourists but while stationary. 
According to city planners, while Kolkata builds costly highway flyovers and elevated metro railways, refurbished trams could solve the city's transit woes more cheaply and with fewer displacements.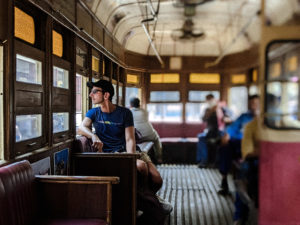 The CTC already has the infrastructure in place to run the trams, and the Nonapukur workshop for trams in Kolkata is a unique factory in and of itself.

Speaking to The Telegraph, West Bengal Transport Corporation (WBTC) managing director Rajanvir Singh Kapur said one should not expect all routes to be thrown open all at once. 
"We will soon lay tracks for a heritage route from Esplanade that will travel on a loop along the Maidan, which is so beautiful," he said. "We have introduced free WiFi in our AC trams. Our objective is to make trams cool so young people start using them."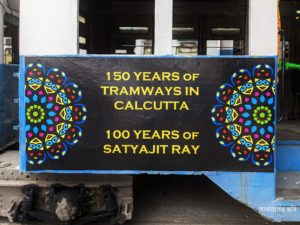 However, more than AC and Wi-fi, the old timers, green activists and heritage lovers want trams to be back on more routes as a viable means of transport and not just as heritage showpieces to woo tourists, cool youngsters and filmmakers.
According to tram lovers, they are not giving up yet and the battle to save the city's icon is on. "We are trying to set up a dialogue with the government," says Gupta. 
Image: Calcutta Tram Users Association
Trans World Features (TWF)