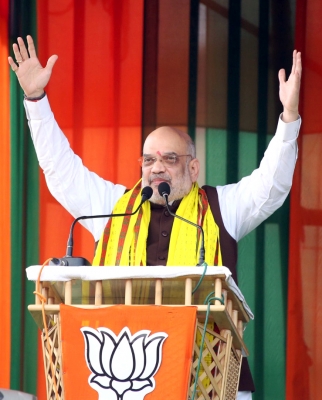 Shillong, April 9: Union Home Minister Amit Shah is set to visit Arunachal Pradesh on April 10 and 11 to officially launch the 'Vibrant Villages Program' (VVP) in the village of Kibithoo, which is located close to the Indo-China border.
The visit comes amid tension between the two countries over border areas.
The home ministry announced that the Center has sanctioned the VVP to the tune of Rs 4,800 crore, including Rs 2,500 crore specifically for road connectivity for fiscal years 2022-23 to 2025-26.
2,967 villages in 46 blocks in 19 districts along the northern border in the states of Arunachal Pradesh, Sikkim, Uttarakhand, Himachal Pradesh, and Ladakh have been identified for comprehensive development under the VVP, a programme sponsored by the central government.
662 villages, including 455 in Andhra Pradesh, have been designated for priority coverage in the first phase.
The VVP aims to providing quality life to the local resident sof border villages. It also intends to increase security at border areas and stop out-migration from these settlements.
The district administration will create action plans for each village with assistance from the block and Panchayat levels in order to guarantee complete saturation of central and state schemes.
Road connectivity, potable water, power, including solar and wind energy, mobile and internet access, tourism attractions, multipurpose facilities, healthcare infrastructure, and wellness centres are among the development priorities for villages.